Youth Entrepreneurship Academy Launches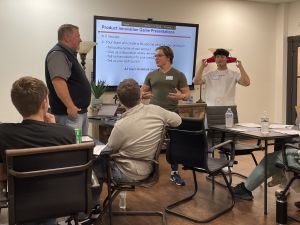 On October 10th the Academy of Young Entrepreneurs (AYE), a program created by For the Cause in partnership with the Foundation of the Columbia Montour Chamber of Commerce, launched at the Berwick Innovation Center, owned by Jessica and Greg Martz of Martz Technologies.
This groundbreaking initiative, designed to inspire and equip young minds with the skills to become future business leaders, is made possible through generous grant funding from the PPL Foundation and The 1994 Charles B. Degenstein Foundation. The grant funding for this initiative was obtained through a larger grant, Today's Teens, Tomorrow's Leaders, from the Community Giving Foundation, Susquehanna Valley United Way and the Arconic Foundation.
On the second Tuesday of every month, students from Berwick, Benton,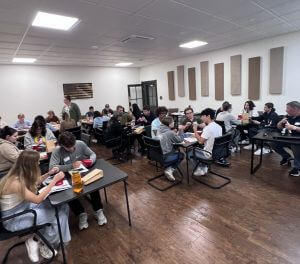 Bloomsburg, Central Columbia, and Columbia Montour Area Vocational School will be in a session at a different business location within Columbia County organized by the staff of The Foundation of the Columbia Montour Chamber of Commerce.
"We're absolutely thrilled to bring this groundbreaking initiative to life! It's like handing our local high school students the key to unlocking their entrepreneurial potential. What an exciting and fantastic opportunity." said Teresa Peters, For the Cause Regional Director.
For the Cause, Inc. is a Berwick based 501(c)(3) non-profit with a mission to empower community members to revitalize Columbia and Luzerne Counties by linking community members to resources in support of professional and social sustainability with a significant emphasis on youth engagement. The Youth Entrepreneurship Program is a testament to our dedication to inspiring the next generation of business leaders.