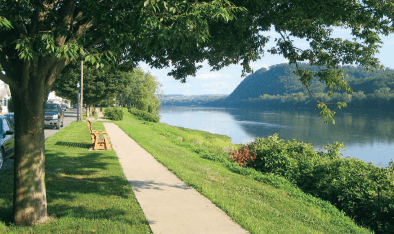 Columbia and Montour counties feature the Susquehanna River valley with Berwick, Bloomsburg, and Danville nestled along its banks. Rolling hills, farmlands, rural communities, forests, and public spaces make up the rest. Our communities offer specialty shops, unique dining, and arts and cultural opportunities. The surrounding area provides abundant outdoor recreational options including biking, hiking, kayaking, fishing, Knoebels Amusement Resort, Ricketts Glen State Park, and much more.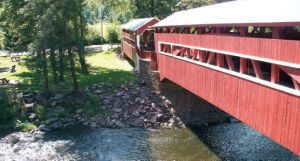 Most over a century old, over 20 covered bridges are located throughout Columbia and Montour counties. The Columbia County Covered Bridge Association is dedicated to the preservation of these bridges and creating opportunities for people to appreciate them. The bridge to the right is the Rupert Covered Bridge connecting Bloomsburg and Rupert.
In early October, the Columbia-Montour Visitors Bureau hosts the Covered Bridge & Arts Festival. The Festival is one of the largest craft festivals on the East Coast with more than 325 craft vendors, over 30 food vendors, free parking, and free admission.
Situated just north of Washingtonville, the Preserve provides 15 miles of hiking trails, a fossil pit, picnicking, and the 165-acre Lake Chillisquaque, open to fishing and boating. The Visitor's Center hosts educational programs and workshops and serves as a bird-watching area where thousands of migrating ducks, geese, and other waterfowl gather.
The Montour Area Recreation Commission manages the Preserve, as well as several other outdoor sites in Montour County including Hess Recreation Area, Hopewell Park, which includes a pump track and mountain bike trail, and the North Branch Canal Trail.
Susquehanna Riverlands along the west bank of the Susquehanna River provides year-round outdoor enjoyment. Hike, boat, fish, play, observe wildlife or simply sightsee at the Riverlands, located along Rt. 11 North of Berwick.
This tract in Southern Columbia County includes three reservoirs, an 8-mile hardened trail, and approximately 40 miles of marked, shared-use trails. Recreation uses include hiking, biking, hunting, fishing, canoeing, kayaking, electric-powered boating, and cross-country skiing
A professional theater company serving Northeast Pennsylvania, BTE supports one of the few resident ensembles in America. The Ensemble continues its commitment to provide the region with unique cultural opportunities throughout the year.
The Fair is one of the largest East of the Mississippi, drawing hundreds of thousands of people each year for headline entertainment, food, rides, crafts, horse racing, and agricultural exhibits. The Fair is held in late September every year. The Fairgrounds, consisting of 234 acres and 20 spacious buildings, also hosts trade shows, short-track auto racing, and other events throughout the year.