Member News – September 13, 2023
Penn College Launches First-Ever Podcast
Produced on the campus of Pennsylvania College of Technology, the  "Tomorrow Makers: A Penn College Podcast" is now available on major listening platforms.  Learn more.
Martha Graham Dance Company coming to Weis Center
The Weis Center for the Performing Arts will welcome the renowned Martha Graham Dance Company (MGDC) on Thursday, September 14 at 7:30 p.m. at the Weis Center. Learn more.
Commonwealth University President Hosts Podcast
Dr. Bashar W. Hanna is the host of Common Ground, a higher education podcast that brings leaders from across Pennsylvania together to engage in meaningful conversations. Learn More.
Central Susquehanna Opportunities' Financial Workshops open for September
CSO offers a variety of free workshops to help you develop new skills and achieve your life goals. At our Community Action offices in Shamokin, Sunbury, and Bloomsburg, you can learn about budgeting, getting organized, improving your credit score, and more! See the full schedule here.
Community Giving Foundation welcomes new Director of Philanthropy
The Community Giving Foundation is excited to welcome Alyssa Meyers-Sanonu to the Foundation team as the Director of Philanthropy. Learn more about Alyssa.
Arts is Bloom welcomes Shayna Steele
Powerhouse vocalist Shayna Steele will kick off the 2023-2024 Season of Arts in Bloom at Commonwealth University-Bloomsburg. Steele, at home singing soul, jazz, and blues, will perform Friday, Sept. 15, at 7:30 p.m. in Haas Center for the Arts, Mitrani Hall. Learn more.
Drive-Through Flu shot Event
Get your flu shot on Saturday, September 16th, 9 a.m. to 1 p.m. at one of Geisinger's drive-through events. Find a drive-through location here.
Commonwealth University offering CMA program
The Clinical Medical Assistant certification course from Commonwealth University is designed to prepare students to function as professionals in multiple healthcare settings. See the program flyer.
Ken Pollock Ford Dealership Hosting Benefit Car Show
The annual Car Show to benefit Johns Hopkins Stepping Stones Transplant Patient Fund is being held at the Ken Pollock Ford Dealership in Berwick on Sunday September 17, 2023. Learn More.
Columbia County Placemaking Initiative Meetings Happening September 20th
Gatherings to learn about the new Columbia County Placemaking plan to make our community an even better place to live, work, and play are happening across the county on September 20th.  See full list of times and locations.
Glen Brook teaming up for Estate Planning Seminar
Glen Brook Rehabilitation and Healthcare Center is hosting a free seminar on estate planning with Eric Young from Steinbacher, Goodall, and Yurchak on September 19th.  Learn More.

Berwick YMCA cuts ribbon on new Gym
Saturday, September 9th saw the ribbon cut on the Berwick YMCA's new gym.  Congratulations!
McKonly & Asbury Hosting non Profit Webinar September 21st
Gary Dubas and Jim Shellenberger, partners and leaders of McKonly & Asbury's Nonprofit segment, will participate in a lively discussion with Steve Sullivan, Chief Executive Officer of CommunityAid on the topic of continuous improvement. Learn more and register here.
Fromm Electric to Celebrate 100 years
Join Fromm Electric on September 28th from 11-1 pm at Fromm's Bloomsburg branch for an outdoor BBQ featuring a catered lunch and amazing giveaways from suppliers such as Milwaukee, Signify, and Eaton. The event is "rain or shine,". Find more details.
Bloomsburg Theatre Ensemble relaunches podcast
Making a comeback after a 3-year break Bloomsburg Theatre Ensemble relaunches "Down Center". This is a monthly podcast putting Bloomsburg Theatre Ensemble's company, art, people, and town front and (down) center. See all episodes.
United in Recovery announces SCOPE Trainings
SCOPE Trainings provide evidence-based education for first responders, fire, EMS, police, employees, volunteers, and others affiliated with the agency on SUD, especially OUD. See full list of training dates.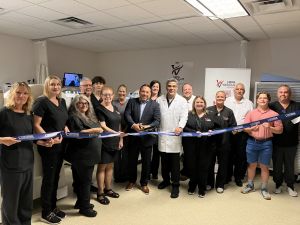 NEPA Vascular Celebrates new Treatment room
On September 6th the team at NEPA Vascular celebrated the addition of 2 new hyperbaric chambers at their 1918 W Front St. location.  These chambers will aid in treating wounds in our region.  Congratulations!
Press Enterprise Commercial Printing Goes Social
Press Enterprise Commercial Printing recently created a Facebook page to bring print to a new platform. Follow them at pressenterpriseprinting to see employee and company news, product and service promotions, and production spotlights. Chamber members who follow the page will be entered into a contest. Learn more about the contest here!
September is National Preparedness Month
National Preparedness Month gives us an entire month to focus Pennsylvanians on being prepared. Learn about more ways to be prepared.
Bloomsburg Fair Starts in 9 days!
The 168th Bloomsburg Fair will begin on September 22 with a preview day from 2:00 p.m. - 7:00 p.m.  Get your grandstand, admission, parking, and ride tickets now!
First Columbia Bank Photography back in 2023
The second annual 2023 First Columbia Bank Photography Competition is open for entries. Open to residents within a 50-mile radius of a First Columbia Bank office and local university students! Submit your captivating images by September 29th to photos@firstcolumbiabank.com. Entry is free!
Get the registration packet here.
CSIU offers a Community Health Worker Training Program
Community Health Workers (CHWs) are trained public health professionals who know their community and have the heart for helping others and serving their community. Learn more about the program the CSIU is offering here.
PA CareerLink, Columbia Montour hosting Job Fair Oct. 5th
The 2023 Columbia-Montour Fall Job Fair will be held on Thursday, October 5th at the LCBC Church campus, 2421 Columbia Blvd., Bloomsburg, PA. The event will begin at 11:00 a.m. and close at 2:00 p.m. Businesses interested in attending can register here. Space is limited.
SBDC Fall Training Events
In-person and virtual events are happening at SBDC this fall.  Check out the full schedule.
Non-Profit Leadership Series Happening October 4th.
Community Giving Foundation, in partnership with the United Way in our region, is excited to invite you to the next session of the 2023-2024 Nonprofit Leadership Series. The Nonprofit Leadership Series provides free professional development opportunities to nonprofit leaders on a variety of topics. Learn more.
Covered Bridge Festival happening October 5 - 8
The 41st Annual Covered Bridge & Arts Festival will have something for everyone! The Festival is one of the largest craft festivals on the East Coast, and four-day annual attendance is typically near 150,000 visitors. Learn more.
Mom and Son Dinosaur Brunch happening on October 8th
The Friends of the Bloomsburg Children's Museum will host its 2nd Annual Mom and Son Dinosaur Brunch on Sunday, October 8 from 11 a.m. to 2 p.m. Enjoy dino-themed games, crafts, bounce houses, face painting, tractor rides, a brunch buffet, and so much more. 
NEPIRC Manufacturing Day: October 13
Join NEPIRC on Friday, October 13th to celebrate the many contributions of our region's manufacturing industry! At Manufacturing Day, you'll be able to see product demonstrations; learn more about the cool products made right here in our local communities, and more!
Bloomsburg YMCA looking for Trunks
Bloomsburg YMCA is searching for families, businesses, and organizations to participate in Trunk or Treat! See more details.
Luzerne County Community College hosting Fall Career Fair
LCCC will be hosting a fall Trades & Technology Career Fair in November and is looking for businesses to participate.  Learn more and register today!