Press Enterprise Commercial Printing Gets Social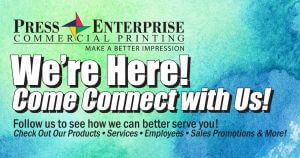 Press Enterprise Commercial Printing recently created a Facebook page to bring print to a new platform. The social media presence will allow them to communicate with businesses, employees, and the public in a whole new way. Follow them at pressenterpriseprinting to see employee and company news, product and service promotions, and production spotlights. Follow them on Facebook and they will follow your business as well.
The Press Enterprise encourages their fellow Chamber members to follow their Facebook page and would like to give each member a chance to win a FREE AD (Valued at $500) in the Daily Newspaper. For your chance to win, FOLLOW their page, SHARE and TAG them in one of their recent posts, and send a DM to say you are a member of the Chamber.
The contest ends September 15th. The winner will be announced on September 20th in the E-Biz Newsletter and contacted about the ad details and information.
In addition to their new social media presence, they recently updated their website, www.pecommercialprinting.com and welcome you to check it out to learn more about how they can provide print solutions and services for your business.