New Member Highlight – Susquehanna Community Bank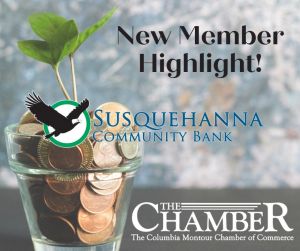 Susquehanna Community Bank was founded on March 13, 1920, with 201 accounts and resources of $49,000 in the village of West Milton, PA along the Susquehanna River.
Today, they have finished in the top 25% of banks in the state of Pennsylvania for 2012-2022 according to a leading bank performance report of 8 different performance criteria. Today, we have over 30,000 accounts and $550 million in Assets.
Their growth has been gradual, but they couldn't be prouder of where we are today. In 1972 the Bank built a new building, the current location for the West Milton branch, to accommodate customers' growing staff and emerging needs. That growth led to the addition of six new branches throughout the years: Lewisburg in 1987, Mifflinburg in 1994, Watsontown in 1997, Beaver Springs in 2005, Northumberland in 2015, and Williamsport in 2019.
Although the Bank has seen many changes over the last 100 years, their mission as an independent community bank to "help our family, friends and neighbors succeed" continues to be the same.