Leadership Central Penn Graduates 24th Class
Leadership Central Penn (LCP), a program run by the Foundation of the Columbia Montour Chamber, celebrated the graduation of the class of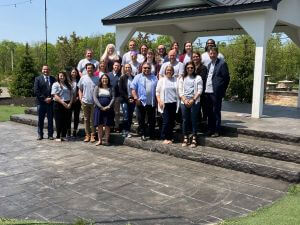 2023 on May 18th at the Venue at Liberty Valley.  This year's class marked the 24th cohort. The program included a Keynote address from Megan Brosious, Chief Administrative Officer Geisinger, and class speaker Ernesto Perez, Great Dane.
Before the certificates were awarded, members of the class presented their community impact projects. LCP class members split into four groups to maximize their community impact and partnered with four nonprofits serving our communities. One project helped clean out and waterproof a storage area at the Good Sarmatian Mission in Danville.  A second group worked with the Teen Center of Berwick to develop a 9-month teen entrepreneurship academy for high school students that will launch in the fall. The Danville Child Development Center was in need of repainting work in their cafeteria and adjacent areas, so a team took on this task. The last group worked with Beyond Violence of Berwick to paint an entryway and organize donations for the women to use while they are staying at the center.  All of the projects were demanding, but fulfilling to the LCP members, nonprofit partners, and community members impacted by these organizations.
The event concluded with honoring the LCP Graduating Class of 2023:
Alexandra Baney – Service 1st FCU
Karla Chapman - Agape
Brent Eckart – First Keystone Community Bank
Chris Farr - PPL
Melanie Fisher – First Keystone Community Bank
Kristie Garancosky - Geisigner
Stacy Gordner – First Keystone Community Bank
Karri Harter – Community Giving Foundation
Kasey Hashagen- Kawneer
Jason Huff - Autoneum
Wade Jones – Hope Enterprise
Sadie Jordan – The Women's Center
Shelby Kellner – The Bloomsburg Children's Museum
Shannon Lewczyk – Danville Child Development Center
Sarah Meyer – Columbia Child Development Program
Benjamin Morano - Geisinger
Danielle Pearson – N4Cs
Ernesto Perez – Sponsored by Sekisui Kydex
Jason Ploppert - Girton
Faith Rierson – Columbia Child Development Program
Betsy Rubio – Columbia County Housing and Red. Authority
Melissa Stout – Community Strategies Group
Lindsay Sykes – Bloomsburg Carpet
Leadership Central Penn (LCP) is now accepting nominations for the class of 202-2024. LCP is a nine-month program designed to educate, involve, and motivate a select group of area resident for positions of leadership.  The goals are to seek a diverse group or individuals with an interest in assuming effective leadership roles in their organizations and our communities.  Participants in the program are chosen based on their commitment to the community and their demonstrated leadership potential. To learn more and apply here.