Spring Management & Leadership Cohort Graduates
Employers in Columbia and Montour Counties who are seeking professional development opportunities for their employees are often pleasantly surprised to learn about the plethora of training opportunities available in our region.  Whether it's small business owners looking for guidance from the Small Business Development Centers, or c-suite professionals looking to engage middle-managers or newcomers through Leadership Central Penn, webinars through McKonly & Asbury, MyBenefit Advisor, IMC, NEPIRC, SHRMA, or many more of our Chamber and regional partners, there's something for every audience.  However, we're thrilled to remind employers that a key component of the Chamber's employee development programs is a collaboration between the Chamber and Commonwealth University: Bloomsburg Campus, that takes the form of a certificate program called "Leadership & Management".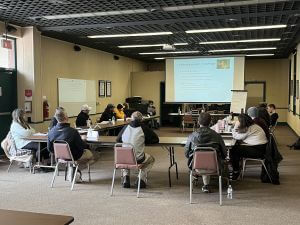 Four aspects of this program make it incredibly worthwhile.  First, it can be done on-site at your business for just your employees (class size depending), or your employees can join a seasonal cohort. Second, it includes incredibly relevant training and course materials, including the role of the supervisor and effective communication/listening, change management and understanding what motivates employees, coaching, feedback and performance management, navigating a multigenerational and diverse workforce and resolving conflict & reaching agreement.  Third, participants who graduate leave the program with professional development goals in place.  Finally and perhaps best of all, it's eligible for WEDnetPA funding.
If you're unfamiliar with WedNet, it's a program built into the Pennsylvania budget through the Department of Community and Economic Development, designed to give Pennsylvania a competitive edge.  The program provides qualified employers training for new or existing employees, allowing them to stay competitive while keeping skills current and relevant.  When employers enroll their employees in WEDnetPA-approved programs, their eligible costs for that training are reimbursable.
Low on professional development dollars in your budget, but need that competitive edge?  Jennifer Williams, of Commonwealth University, our program partner in Bloomsburg, can help facilitate that funding for our approved program.  Below, you'll see photos from our recent graduates, who participated in one of our Spring cohorts (the one below was hosted by Autoneum).
Congratulations to our Spring graduates!  Interested in WEDnetPA funding or sending your employees to our Fall cohort? Contact Jennifer Williams at (570) 389-4004.