US Chamber Creates "America's Top Small Business" Awards. Applications are now open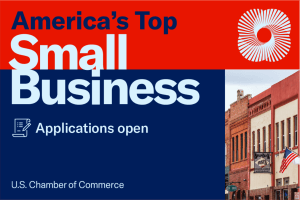 The U.S. Chamber of Commerce has announced the launch of a new awards program for small businesses: America's Top Small Business! Applications for the program are now open.
‌Formerly known as the Dream Big Awards, America's Top Small Business (ATSB) aims to recognize small businesses doing big things in their industries and communities through innovation, job creation and a commitment to being an integral part of a thriving business ecosystem.
‌The U.S. Chamber of Commerce will be choosing Top Small Businesses across America (10 in each of seven regions). The highest scoring business in each region will be named one of America's Top Small Businesses and one finalist will win America's Top Small Business of the Year Award — a $25,000 cash prize! ‌
Find out everything you need to know about the ATSB program, including who is eligible to apply, how winners are chosen, important dates and deadlines, and more on the FAQ page. As members of the U.S. Chamber, we're pleased to help our own members take advantage of these programs.  Reach out to Taryn Crayton at tcrayton@columbiamontourchamber.com for assistance.