Inflation – where are we?
Each month, the US Chamber's top economists offer a deeper dive into the state of the U.S. economy.  As we consider what these subject matter experts share, we hope that you, the members of The Columbia Montour Chamber of Commerce, will have the best, most accurate data that we can get our hands on at your own fingertips, and that armed with this data, you may offer us critical feedback about the state of your own organizations (so that we may advocate on your behalf) and the trends you see here.  Are you experiencing the same trends as the U.S. Chamber is citing? 
Of special note this month, the U.S. Chamber is reporting data that we already knew anecdotally, that in 2022, the national average in electricity rates increased to unprecedented highs in 2022.  To take advantage of the Chamber's partnership with our energy broker partners at World Kinect Energy, who will help you shop for the best rates on commercial energy because you're members of the Chamber, connect with Loren Martello today or visit here.
Source: US Chamber of Commerce
Map Reveals Unprecedented Increases in Electricity Rates Nationwide Last Year
Recently, the U.S. Chamber of Commerce Global Energy Institute released its annual Electricity Price Map which shares some bad news for consumers and businesses: electricity rates rose by unprecedented amounts in 2022.

Why it matters: The map shows that there are stark differences from state to state. While the energy mix available within a state will play a large role in state electricity prices, energy-limiting policies in some states lead to elevated prices, making the price of electricity much higher for consumers and businesses. To counter these rising rates, it's crucial that we leverage and develop our electricity generation resources here at home – whether they are traditional resources like natural gas, nuclear, or hydro, or the rapidly-emerging sources of wind and solar coupled with storage.

Fill me in: Aside from Alaska and Hawaii, which struggle with limited generation options and geographic isolation from diversified energy grids, California, New England, and New York comprise the entirety of the top ten highest-priced states.

Where does your state rank? Click the map below to see where your state ranks, and compare it to the national average of 12.49 cents per kilowatt hour.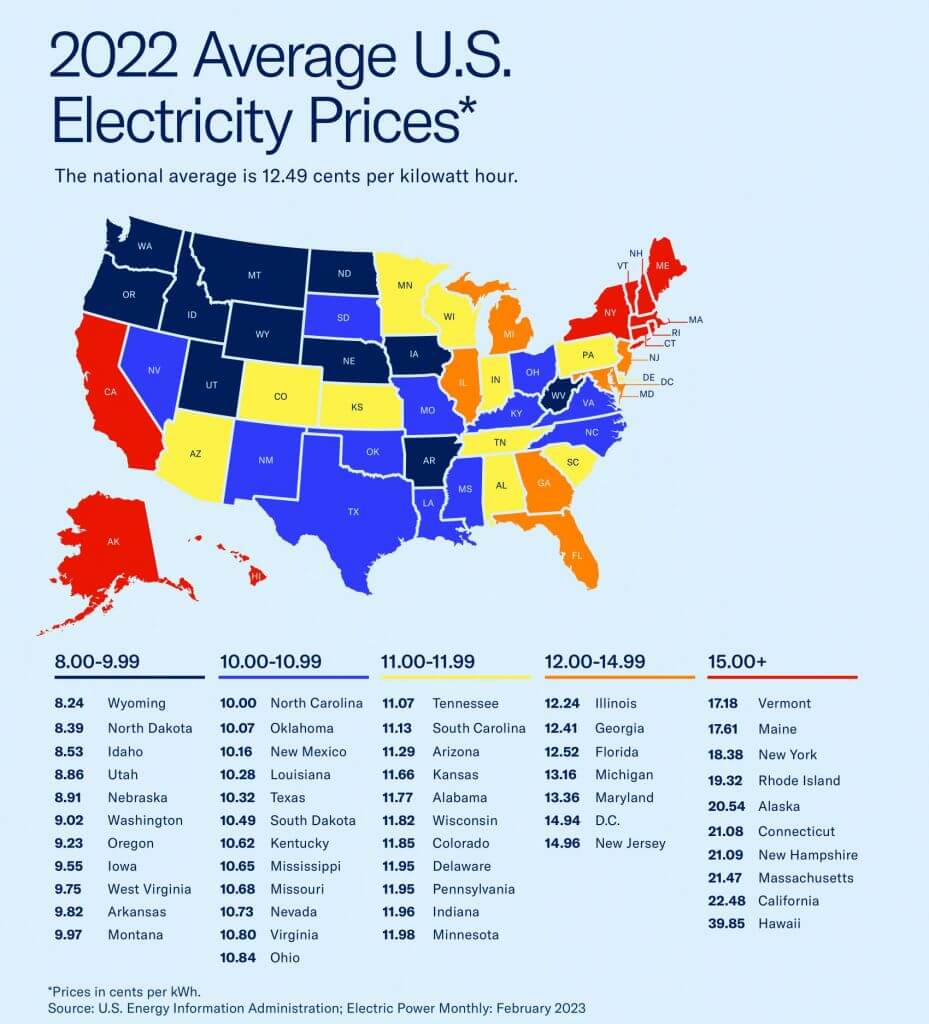 ____
March Retail Sales Fall
Retail sales fell 1% in March. That comes off a 0.2% drop in February, but it was after an incredible 3.1% gain in January.
Why it matters: Retail sales are still above where they were at the end of 2022 because of the huge surge in spending in January. So back-to-back months of decline are not overly concerning. Consumers are still spending and still exhibiting remarkable resilience.
____
Inflation Cooled in March. It's Still Too High
The Consumer Price Index, the broadest measure of consumer prices, increased 5% from a year earlier, down from 6% in February and a 40-year high of 9.1% last June.
Why it matters: The overall fall of the topline inflation number will get attention. It is a positive step but stripping out volatile components like food and energy shows "core prices" are still rising rapidly (5.5% annually).
____
Strong Job Creation in March
The March jobs report was another strong data point for job creation and labor force participation.
Why it matters: Despite the worries about a slowing economy leading to rising unemployment, the labor market keeps chugging at an impressive rate that defies conventional wisdom.
To see details by the numbers and the bottom line for the economy click here.
###
The U.S. Chamber of Commerce aims to bring you inspiration from leading respected experts. However, before making any business decision, you should consult a professional who can advise you based on your individual situation.