Member News – April 5, 2023
Town of Bloomsburg Seeks Artists for Town Hall Murals
The
Town of Bloomsburg
seeks artists interested in submitting sketches for potential murals on the low walls outside
Town Hall
facing East 2nd Street/College Hill.
The Town does not at this time have any funds identified to pay the artist(s); however, they are open to seeking grant funds and/or covering the cost of the paint/materials.
Once the sketches come in, the Planning Commission will forward their recommendations to Town Council to discuss the details of completing the project. The Planning Commission will meet on April 20th to discuss the submitted sketches. 
You may submit your ideas to Lisa Dooley, Town Manager, at ldooley@bloomsburgpa.org and to Kyle Bauman, Code Enforcement Officer, at kbauman@bloomsburgpa.org.
Lisa's Country Cuts & Spa Has Moved
Lisa's has relocated to 328 Main Street in Catawissa.  Drop by to see them at their new location!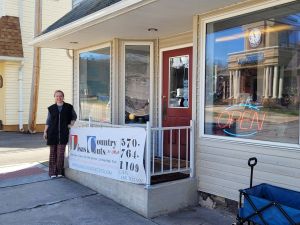 Artspace Gallery to Feature New Show
Check out the new show, called "Rare Earth", which debuts with an artist reception on April 8 from 4 pm to 6 pm.
Downtown Bloomsburg, Inc. - 1st Friday's
First Fridays is a collaboration between DBI and downtown businesses.  From 5 pm to 8 pm on the first Friday of each month, participating businesses will feature specials and there will be live music, children's activities, pop-up vendors & more! What's on tap for Friday, April 7?
Community Giving Foundation:Berwick Announces Dale Baker Fund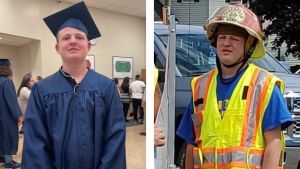 The Dale Baker Endowment Fund was created in memory of Dale Baker, a young man who passed away in the Nescopeck fire last August. Community members and local firefighters came together to create this fund as a lasting legacy for Dale. The fund will provide financial assistance to Berwick Area Little League Association players—an organization and sport that Dale was passionate about.  Read the release.
Bloomsburg Children's Museum April Events
The Children's Museum has a full calendar of events in April.  Check out some of the events below which are free to the community!
All Abilities Night
Friday, April 7th
3-7:00 p.m.
Come to a fun night out for All Abilities Night! Enjoy a reduced number of visitors, space, and freedom to explore at your own pace. We offer adapted exhibits, a quiet area, and an opportunity to network with other families. All Abilities Night is a FREE event held regularly.
Bloomsburg Mini Maker Faire
Saturday, April 22nd
10-4:00 p.m.
The Bloomsburg Mini Maker Faire® is a FREE Bloomsburg Children's Museum organized event hosted on Saturday, April 22nd. This is a one-day, family-friendly event that celebrates arts, crafts, engineering, food, music, science and technology projects, and the Do-It-Yourself (DIY) mindset. It's for resourceful, creative people who like to tinker and love to make things. Craftsmen, artisans, performers, homesteaders, crafters, inventors, thinkers, and doers are welcome to apply to be Makers. The Faire will showcase cutting-edge technology such as 3D printing and robotics but also have more traditional trades such as woodworking, fine arts, and sewing crafts.
LPN Open House Set for April 20
Join the CSIU at the 2023 Central Susquehanna LPN Career Center (CSLPNCC) Open House. Tour the new, state-of-the-art facility, meet the faculty, and see why the CSLPNCC is the premier school in the region for licensed practical nursing education. Staff will be available to answer questions about financial aid and walk you through the application process. See the flyer.
Bloomsburg YMCA Community Events
On April 22, join the Bloomsburg YMCA and the Bloomsburg Children's Museum Mini Maker Faire for the annual Healthy Kids Day.  Check out the flyer.
Innovative Manufacturer's Center (IMC) Events
IMC will host two free events in April.  Contact Lauri Moon, IMC Outreach & Special Projects Manager, with questions.
April 6, 9:00 AM - 10:00 AM - webinar called "Developing Your Workforce with Online Training & Certification"
April 11, 8:00 AM - 12:00 PM - "Electrical Safety Training for General Industry", to be held in person at Northway Industries in Middleburg, PA.
Bring Clarity to Chaos: How to Have the End-of-Life Conversation
Join Steinbacher, Goodall & Yurchak as they discuss the importance of communicating final wishes to loved ones.  Event to take place at Elder Care & Special Needs Resource Center, Williamsport.  Register here.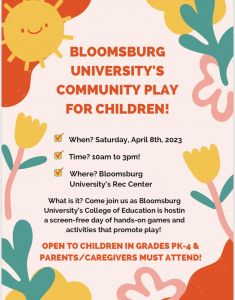 Bloomsburg University's Community Play for Children is April 8
Join the College of Education at the University Rec Center from 10 am to 3 pm for a screen-free day of hands-on games and activities that promote play.  Open to children PK - 4 & parents/caregivers required to attend.
McKonly & Asbury Seminar: Business Transition Planning - What is Your Plan?
Join McKonly & Asbury for this free seminar at Bloomsburg University's Monty's Hall, 400 East Second Street, Bloomsburg.  Time: 8:00 AM to 9:30 AM, May 2, 2023.  The presentation will discuss the impacts of transitioning a business.  Register to attend.
Zartman Construction Celebrating 50 Years of Construction Excellence
Zartman Construction invites you to join in celebrating their 50-year milestone with an Open House on May 3rd from 4:30 p.m. to 8 p.m. Please tour our facility and meet with our staff while enjoying hors d'oeuvres and refreshments.  Learn more about the history of Zartman Construction here.
2023 Covered Bridge Photo Contest Returns! - Experience Columbia -Montour Counties
Each year, the Visitors Bureau holds a photo contest to produce a 550-piece puzzle featuring one of the area covered bridges. The 2023 Covered Bridge Photo Contest runs from Saturday, April 1st through Wednesday, May 31st at midnight EST. We're excited to see another fantastic set of entries from everyone! Click HERE to learn how to enter!
First Keystone Community Bank Offers Security Tips
Here's what the American Bankers Association says to do in the event of a data breach.
SEKISUI KYDEX Judges Local Scouting STEM Contest
SEKISUI KYDEX's Sean Stabler, VP of Innovation, and Sierra Clever, R&D Specialist, were invited to judge at the 8th Annual Rube Goldberg Challenge presented by BSA Columbia-Montour Council. Future STEM leaders from our local community had the opportunity to show of their witty and creative engineering skills at this invention competition. "These events are important to our community for fostering excitement and laughter among young inventors who share a curious and imaginative mindset". - Sean Stabler
PPL Offers Ways to Save Energy
Looking to increase your home's comfort while saving a few dollars? Here are a couple of ideas to get you started.
15 Essential Things You Should Know About Your New House
As you familiarize yourself with the ins and outs of a new space, it helps to start with the basics. Because, let's be honest: The best time to find your water shut-off valve is before your first leak – not after.  Here's 15 tips from Zimmer Insurance.
Encina and Shaw Industries Announce Carpet Waste Recycling Partnership
The agreement calls for Shaw to supply Encina with more than 2 million pounds of carpet manufacturing waste per year, reinforcing Shaw's ongoing commitment to sustainability which includes its Cradle to Cradle Certified® commitment to product circularity. Read full details.
Sherwood Lumber recently purchased property along Industrial Court owned by DRIVE
The company plans to establish a "game-changing" distribution center for lumber and building materials.  Full release can be found HERE.