Member News – October 19, 2022
Bloomsburg Children's Museum Receives $6,000 Healthy Workplace Grant from Community Giving Foundation of Berwick
The first grant of $1,000 will be used for programs and incentives to improve staff mental health and wellbeing and the second grant of $5,000 will be used for general operating expenses to help cover the rising cost of utilities and program materials.
Director of the BCM, Dr. Ginny Weibel says, "The funds we received from the Community Giving Foundation are invaluable to the health and well being of our staff. Additionally, the operating support allows the museum to continue to enrich the lives of the 26,000 people we serve annually."  Over the years, the BCM has utilized this grant funding to increase job satisfaction, reduce stress and increase comradery among the museum staff.
Community Giving Foundation Continues Nonprofit Leadership Series
You won't want to miss the next program, called "Don't Fear Being a Speaker", Facilitated by Dr. David S. Heineman, Bloomsburg University, the program considers how to overcome speech anxiety, find your voice, and become a better advocate for your organization. Read more.
Susquehanna Valley United Way to Host Be Kind Poster Contest
This winter, the poster contest will span across elementary, middle, and high school age groups in Snyder, Union, Northumberland, Columbia, and Montour counties. The competition will be open from October 12th through November 30th.
Congratulations to the Winners of the First Columbia Bank Photo Competition!
244 local photos were displayed in this year's contest.  Winners included: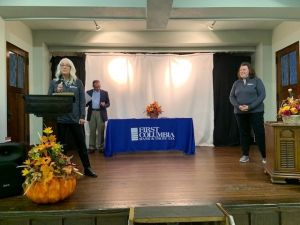 Animals and Wildlife category: First place, Michelle Yost of Bloomsburg, "Perching Heron;" second place, Julie Kuznicki of Orangeville, "Hummingbird on Salvia;" third place, Rita Scholl of Selinsgrove, "Seeing Double;" honorable mention, Kiersten Novick of Bloomsburg, "Looking for Prey."
Flowers category: First place, Kiersten Novick of Bloomsburg, "Pink Flower;" second place, Deborah Houser of Bloomsburg, "Peeking Through the Fog;" third place, Michelle Yost of Bloomsburg, "Perfection in Coral;" honorable mention, Kelly Caudle of Winfield, "Rebellious Sunflower."
Close Up/Macro category: First place, Crystal Post of Shickshinny, "Motionless;" second place, Avis Miller of Berwick, "Wings Up;" third place, Michelle Yost of Bloomsburg, "Kalanchoe in Bloom;" honorable mention, Angela Purcell of Berwick, "Frozen Bubbles."
Nature/Landscape category: First place, Angela Purcell of Berwick, "Silence Fell;" second place, Michelle Yost of Bloomsburg, "The Wave;" third place, Jillian Wydra of Wapwallopen, "Morning Sun Peeking Through Tree;" honorable mention, Eugeniu Grigorescu of Hanover Township for, "Slowed Flow."
Black and White category: First place, Jillian Wydra of Wapwallopen, "Moonlit Tree on Snowy Night;" second place, Michelle Yost of Bloomsburg, "Southwestern Barn;" third place, Avis Miller of Berwick, "Down the Railing;" honorable mention was given to Carter Stephens of Duryea for "Boop Dog Nose."
Best in Show was again awarded to Novick for her "Pink Flower."
Rita Scholl of Selinsgrove won the People's Choice award, decided by those who attended Sunday's open house for her "Water-drop Reflections."
AGREEMENT GUARANTEEING ADMISSION, UP TO $28,000 IN SCHOLARSHIPS SIGNED BETWEEN LOCAL SCHOOL DISTRICTS AND COMMONWEALTH UNIVERSITY
Bloomsburg, Lock Haven, and Mansfield, together as Commonwealth University and 17 school districts in Northeastern and Central Pennsylvania, have signed an agreement guaranteeing admission, eligibility for merit-based scholarships, and on-campus housing at any of its locations.
The school districts included in the agreements are: Berwick, Benton, Bloomsburg, Central Columbia, Columbia/Montour Vo Tech, Danville, Hazleton, Lewisburg, Millville, Milton Area, Mount Carmel, North Schuylkill, Selinsgrove, Shamokin, Southern Columbia, Warrior Run, and Shikellamy.  Read more.
SEDA-COG OFFERS FREE CLEAN & TUNE SERVICE
With colder weather approaching, SEDA-Council of Governments (SEDA-COG) is continuing to offer the LIHEAP Clean and Tune program for residents.  This program is a benefit available to provide homeowners and residents the assistance to maintain their new or repaired heating systems and to avoid interruption.  Read more.
 

BARRY ISETT & ASSOCIATES CELEBRATES FOUR YEARS OF

 

BEST PLACES TO WORK IN PA

 
 Isett has been recognized with 119 other businesses in this statewide list across small-, midsize- and large employer categories. The Best Places to Work in PA ranking is proudly embraced by employers as third-party validation of its credibility to stand out to clients, partners, and most importantly, job seekers. 
SMALL BUSINESS DEVELOPMENT CENTER HIGHLIGHTS UPCOMING WEBINARS
Pennsylvania's Small Business Development Centers are hosting upcoming webinars: Culture is King: Leadership & Communication (October 25, 12pm), Power of Positive Leadership (November 8, 12pm), and Why Are Business Owners Resistant to Virtual Work (November 9, 12pm).  For these programs and more, visit here.  Hoping to connect with your local SBDC?  Columbia County is served by Wilkes University SBDC, and Montour County is served by the Bucknell University SBDC.
SITEEXCHANGE PUBLIC ART PROJECT BRINGS ART TO THE GUMBALL MACHINE
A public art project by Cindi Hron and The Exchange, SITEexchange engaged artists in the central Susquehanna Valley to observe and record, through artistic means, the sites (places) important to them within the region: public places, private places, well-known ones, secret ones -- any places at all worth documenting in paintings, drawings, photographs, or any other artistic medium.  Now, that artwork is available across the region in miniature form - through gumball machines throughout the community!  All of the original artwork will hang at the Exchange Gallery between October 10th and November 18th, 2022.  You've got to check this out.  
INVITATION TO BID FOR MARC 2023 LAWN CARE AND MONTOUR PRESERVE SNOW REMOVAL CLOSE OCT. 24
Invitation to bid packets for both contracts are now posted to MARC's website have been posted to the MARC and Montour Preserve Facebook pages, and will be advertised in local newspapers in the coming days. Visit the site for more.
PA CareerLink® Columbia/Montour Counties Moves to New Location to Better Serve Business and Job Seekers
Bloomsburg, PA (October 17, 2022) – Advance Central PA, the workforce development board serving nine counties, announces the PA CareerLink® Columbia/Montour Counties is moving from 415 Central Rd Suite 2, to the building next door at 421 Central Rd., Suite 1 so as to better serve job seekers and businesses utilizing CareerLink services such as recruitment events and consultation regarding workforce talent solutions, one-on-one career coaching, access to computers to apply for jobs, and access to training programs to increase skills. Having a larger site will allow the local staff to provide even more services."
To accommodate the move, the PA CareerLink® will be closed to the public during the week of October 31st through November 4th.  The PA CareerLink® located in Sunbury is an option for job seekers with immediate service needs or access to computers.  Additionally, local staff in Bloomsburg are available to set up virtual appointments with job seekers or on-site appointments with businesses.  
For updates, helpful job search tips, and news about upcoming events such as workshops, job fairs, recruitments, and seminars, visit the Central PA CareerLink® page at https://centralpacareerlink.org/ and our PA CareerLink® Columbia/Montour/Northumberland/Snyder/Union Counties Facebook page at https://www.facebook.com/pacareerlinknsu.
MARIA JOSEPH CCC TO HOST TRUNK OR TREAT OCTOBER 26
Staff and residents of Maria Joseph are invited to decorate their trunks and pass out candy! The event will be held in the back parking lot of Maria Joseph Emmanuel Skilled Nursing Center. Car set up begins at 5:30pm and event starts at 6:00pm.
TRUNK OR TREAT AT BLOOMSBURG UNIVERSITY, OCTOBER 27, 2022
Hosted by the Bloomsburg University Police, the Columbia County DA's Office & the Victim/Witness Office, this event takes place at Bloomsburg University's LC East Commuter Lot.  Call Sgt. Hirko for more information, at 570-389-2211. 
TRUNK OR TREAT AT BLOOMSBURG REHABILITATION AND CARE CENTER, OCTOBER 27, 2022
This Trunk or Treat event kicks off at 6:30pm.  Reserve a parking spot by contacting Amber Horton (570) 784-5930 or emailing ahorton@bloomsburghc.com.
Address: Bloomsburg Care and Rehabilitation Center, 211 East 1st St. Bloomsburg, PA 17815
BLOOMSBURG AREA YMCA TO HOST TRUNK OR TREAT OCTOBER 28, 2022
Bloomsburg Area YMCA is asking for participants to decorate their trunks and provide treats to hand out. To sign up, email Serena, Youth Development & Family Engagement Director, at shampton@bloomsburgy.org or call the YMCA's front desk at (570)784-0188.
...MORE TRICK OR TREATING AND TRUNK OR TREAT EVENTS
While it's not comprehensive, we've compiled a list of trick or treating and "trunk or treat" opportunities in the community.  If you know of more, we'd love your help.  Shoot an email to Chris Berleth, Chamber Vice President, and we'll be happy to share safe trick or treating opportunities in Columbia and Montour Counties.  Please note that each bullet represents information sourced directly from local social media events and sites, and this is all of the information available to us at this time.  For more information on these events, we encourage you to visit the host's websites and/or social media. 
Here's what we've got so far:
Montour County
10/22/2022 8am – 12pm - Downtown Danville's Healthy Halloween

Wear your costume to the Ferry Street Growers' Market, and be entered to win a prize.  Games and fun activities, first 100 children receive a free treat.  Scavenger Hunt also available, 10/22 – 10/29.

10/26/22 Trunk or Treat -6pm – 8pm

Maria Joseph Continuing Care Community, 11 School House Rd. Danville, PA

10/26/22 – 5pm Danville Community Trunk or Treat

931 Ironment Lane, Danville, PA

10/27/22 - Danville Halloween Parade

Parade forms at 5:00pm at Wall Street, to the Danville Soccer Park, moves at 7:00pm sharp.

10/29/22 – Trick or Treat Night in Riverside Borough - 6:00pm – 9:00pm
10/29/22 6pm Trunk or Treat - Montour Delong Community Fair

5848 Broadway Rd. Danville, PA
Columbia County
10/22/22 12pm – 3pm,  Fran's Dairy Bar, Millville, PA
10/24/22 6-8pm -3rdAnnual BYFL Trunk or Treat

Test Track Park, S Eaton St. Berwick, PA

10/26/22 5:30pm – 7:30pm 5thAnnual Trunk or Treat – Briar Creek Twp. Police & Summerhill Fire Co.

Summerhill Fire Co. 422 Summerhill Rd. Berwick, PA

10/27/22 – Montour Township Trunk or Treat – Sponsored by the Montour Township Supervisors

4 Perry Avenue, Bloomsburg, PA

10/27/22 - Bloomsburg Care and Rehabilitation Center

211 East 1st St. Bloomsburg, PA.  Call 570-784-5930 to reserve a parking spot.

10/28/22 – Booburg Trunk or Treat at Bloomsburg Area YMCA
10/30/22 Trunk or Treat, Beaver Township Volunteer Fire Company

5:45pm, Trunk or Treat 6pm – 8pm

102 Mountain Shadow Ln, Bloomsburg, PA

10/30/22 & 10/31/22 – Trick or Treating in the Borough of Berwick, 6pm – 8pm.
10/31/22, 6:00-8:00pm - Trick or Treating - Catawissa Borough, hosted by Catawissa Police Dept.
10/31/22 – 6pm – 9:00pm - Town of Bloomsburg Trick or Treat Night