Member News – September 28, 2022
Press Enterprise Announces 2022 Fair Food Favorites Contest

Wild for Salmon Shares Fair-Style Salmon Mac & Cheese Recipe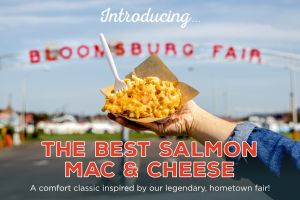 Inspired by their trips to the Bloomsburg Fair, you're going to want to put this in your recipe book.
The Bloomsburg Public Library Strategic Planning Survey
The library needs your help completing a strategic planning survey.
Bloomsburg River Trail's New Construction Plan
The Bloomsburg River Trail will connect Bloomsburg via dedicated pedestrian and bike paths, which will improve residents' access and usability of town assets.  See the plan.  
Cybersecurity: What the Nonprofit Executive Needs to Know
On September 29, McKonly & Asbury will discuss ways to mitigate and reduce risk specific to nonprofits susceptible to cyber-attack.  Register here.   
Empowering Educators Grant Applications Due Sept. 30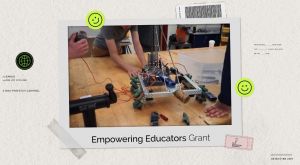 Offered by the PPL Foundation, these grants are designed to support and encourage teachers in providing hands-on learning experiences in the areas of STEM (Science, Technology, Engineering, and Math.). Read more here.
First Commonwealth Bank Named Top Workplace
Congratulations to the First Commonwealth Bank, so honored by the Pittsburgh Post-Gazette.  Read More.
We Know Them!

 

Congratulations to The Duane Family!
Congratulations to Chamber Ambassador Lauren Duane (and family), who recently connected with Chamber member Cats in Bloom!
Design Group Welcomes New Hire
Congratulations to Design Group, who this week welcomed Joseph as the the new Manufacturing and Distribution Director in their Berwick Main Plant.  
Bucknell, Wilkes Universities' Small Business Development Centers Offer Fall Programs
As the SBDC serving Montour County, Bucknell's free educational workshops in October feature marketing & story telling, leadership, and work culture programs.  Check them out here.   As the SBDC serving Columbia County, Wilkes University is offering "The First Step Express", a webinar to maximize the success rate of new businesses and entrepreneurs.  Sign up here.
B.I.D.A. To Celebrate 60 Years
Highlighting its history, B.I.D.A (formed in 1962) will be working with the Press Enterprise to publish a special edition publication later this year.  Congrats on your anniversary!
 

PA State Representative Offers Farewell Remarks
Representative David Millard, who will retire at the end of this legislative session, shared a farewell speech in the House chamber late last week.  See his remarks here.  On behalf of the Chamber, thank you, Representative Millard, for your service to the community.  
Lockwood and Wakeman to Moderate Panels at Statewide Economic Development Conference
Congratulations to Jennifer Wakeman of DRIVE, who was selected to moderate "Rural Economic Development: Key Issues and Strategies", and to Betsy Lockwood of SEDA-COG, who will moderate "Unpacking the Infrastructure Investment & Jobs Act", discussing opportunities for Pennsylvania's communities.  Both will address the Fall Conference of the Pennsylvania Economic Development Association on October 25.  
Kawneer Welcomes New President
Congratulations to Laurent Salah, newly named President of Arconic Building & Construction Systems (BCS), the global manufacturer of building facade products that includes the Kawneer business.  Read more.