Adding to Your Business Toolbox: WEDnetPA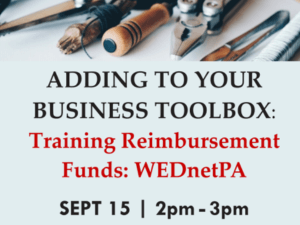 The workforce of tomorrow is changing. In the years ahead, success will require a more flexible and diverse workplace. Technology will continue to play a greater role. And, as you are already seeing, worker shortages will become a real consideration as companies plan for future growth.
These are the challenges you face today as you plan for tomorrow. But, you're not alone. When it comes to preparing your workers to meet these challenges, WEDnetPA may be a valuable resource, providing the resources you need to train new employees and to retrain your existing workers.  With WEDnet's help, you can determine what training is needed, decide how and where to get it, and most importantly, defer some or all of the cost.
On September 15, the PA CareerLink is hosting a webinar to share more about this valuable resource with you.  Consider signing up today!
Did you know that some employers are using WEDnet funding to put their employees through Leadership Central Penn?  Email us today to learn more.   
Looking for an overview of WEDnet before you jump in?  Check out this video resource: