Chamber Welcomes New Vice President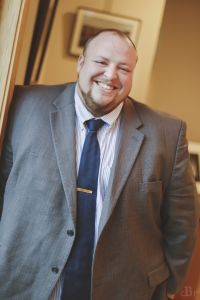 The Columbia Montour Chamber is pleased to welcome Chris Berleth, an accomplished chamber executive and sales professional with thirteen years of business and nonprofit experience, as its new Vice President. Chris, who started on August 8, will provide leadership in delivering a high return on investment to members and supporting economic stability and growth in the region through the development and coordination of communications, programs, and events of the Chamber and its Foundation.
"We are thrilled to have Chris join our team," said Fred Gaffney, Chamber President. "His talent, professionalism, and sincerity will help us provide additional value to our members and better support our area."
Prior to joining The Columbia Montour Chamber team, Chris was most recently with the Greater Susquehanna Valley Chamber in Shamokin Dam as Executive Director of Membership and Leadership. He is an Eagle Scout and a 2015 graduate of Leadership Susquehanna Valley, and holds a B.A. in Political Science and French from Gettysburg College. Chris and his wife Kali have called Columbia County home since 2012, and together they are raising two boys, Remington and Rutledge.