Pennsylvania Chamber Professionals Gather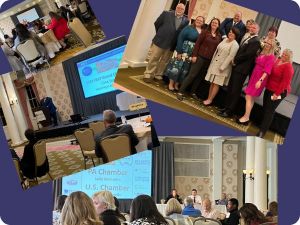 Chris Berleth, Columbia Montour Chamber President, and Taryn Crayton, Director of Member Engagement, traveled to Bedford Springs, PA to meet with Chamber professionals from across the commonwealth at the annual Pennsylvania Association of Chamber Professionals (PACP) Conference.  The conference rotates around the commonwealth each year and brings together industry professionals to discuss best practices for advocacy, member services, marketing, events, and more.  This year's conference was hosted by the BedfordCounty Chamber of Commerce, and featured keynote speakers Shari Pash and Jason Ebey, whose longstanding success and prominence as chamber leaders made them ideal contributors to the event.
Commenting on the CMCC's vision for attending, Berleth said, "In the same way that our members value professional development, upskilling, and leadership training, so too does the Chamber as an organization.  We're grateful for the support of the Board of Directors and our member investors who equip us to make the Chamber the best resource it can be.  There's also no better place to learn from our peers and bring back resources that are going to serve our members even more."
On Tuesday evening, the association recognized industry leaders with service awards, accreditations, certifications, and performance awards.  This year's Chamber of the Year is the Indiana County Chamber, and the Keystone Award (an industry-recognized lifetime achievement award for Chamber management) was awarded to Bernie Dagenais of the Main Line Chamber of Commerce and Susan Williams of the Venango Area Chamber of Commerce.  Chris was also honored to serve as emcee of the awards ceremony, and continues to serve on the organization's board of directors.