PRO-GROWTH BUSINESS TAX REFORMS PASS HOUSE; FINAL PACKAGE INCLUDES POISON PILL
Source: PA Chamber of Business & Industry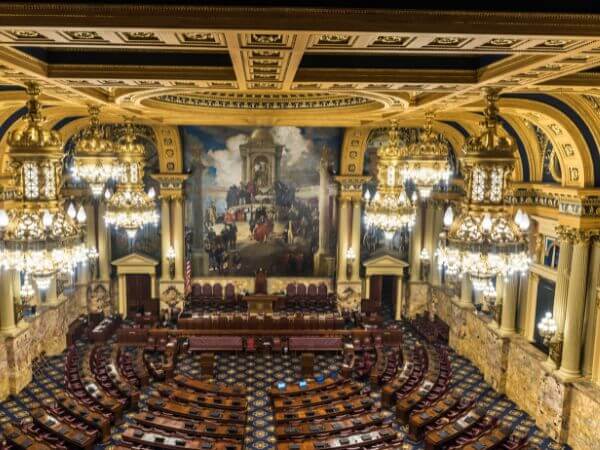 Last Tuesday, the Pennsylvania House of Representatives passed House Bill 1219, tax code legislation that would make several significant changes to the Commonwealth's business tax structure. In the course of considering this bill, the House voted on and passed two PA Chamber-supported amendments offered by Rep. Dallas Kephart (R-Clearfield) to accelerate the phasedown of the Corporate Net Income tax (CNI) and raise the cap on Net Operating Loss (NOL) deductions, respectively. However, the final tax package would also impose combined reporting as the new system for tax filings for multi-state employers, a measure which the PA Chamber strongly opposes.
In a statement, PA Chamber President & CEO Luke Bernstein welcomed strong support from both sides of the aisle for measures to speed up the CNI reduction and improve the treatment of NOLs.
"Once again, when lawmakers have an opportunity to vote on pro-growth tax reform to improve Pennsylvania's business climate, these measures pass with strong bipartisan support," Bernstein said. "Just like in the Senate Finance Committee earlier this year, it is clear that Republicans and Democrats all agree that we need to make Pennsylvania more competitive by reducing tax rates on businesses and encouraging companies to invest here in the Commonwealth," Bernstein continued. Bernstein also pushed back on the combined reporting requirement, which he identified as a "poison pill."
He cited an analysis from the Council on State Taxation (COST), concluding that such a system would transform Pennsylvania's business tax structure into one of the most punitive and aggressive in the nation. Nevertheless, Bernstein emphasized the state's potential to become "an economic powerhouse" with the right policies, given the Commonwealth's many strategic advantages related to geography, natural resources, infrastructure, and workforce quality.
"Passing an expedited CNI and increasing the cap on NOLs without combined reporting would set Pennsylvania on a competitive path that would rival not only other states but other nations," Bernstein said. House Bill 1219 passed in a party-line vote on Tuesday evening. It now heads to the Senate, where its fate is uncertain: the Senate could decline to consider the bill, amend and send it back to the state House, or vote for it as-is and, if it passes, send H.B. 1219 to the Governor for his signature or veto. As this process unfolds, the PA Chamber continues to work closely with lawmakers to advocate on behalf of Pennsylvania employers. If you have any questions, please contact PA Chamber Director of Government Affairs Neal Lesher at nlesher@pachamber.org.
###
Founded in 1916, the Pennsylvania Chamber of Business and Industry is the state's largest broad-based business association, with its membership comprising businesses of all sizes and across all industry sectors. The PA Chamber is The Statewide Voice of BusinessTM.  The Columbia Montour Chamber of Commerce is a member in good standing of the PA Chamber of Business & Industry.