Governor Shapiro Unveils Economic Development Strategy
Source: PA Chamber of Business and Industry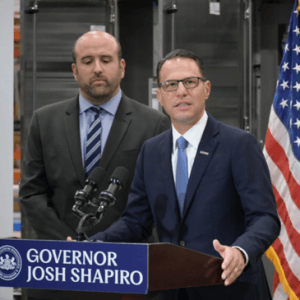 PA Chamber President & CEO Luke Bernstein joined Governor Josh Shapiro and York County Economic Alliance President & CEO Kevin Schreiber at a press conference at Penn Air in York last week in which the governor announced that his administration will formalize an ambitious economic development strategy for Pennsylvania – the first time such a plan will have been proposed statewide in nearly two decades.
Standing alongside Penn Air CEO Seth Bray, Department of Community and Economic Development (DCED) Secretary Rick Siger, and Pennsylvania's Chief Transformation Officer Ben Kirshner, Gov. Shapiro called the plan a "new, forward-looking strategy to ensure Pennsylvania becomes a national leader in innovation, job creation, and economic development.
The themes emphasized by the Governor align closely with many of the pro-business reforms long championed by the PA Chamber. As the Statewide Voice of Business, our organization has advocated for a statewide economic development strategy, and we are pleased that Gov. Shapiro and his administration have answered that call to make Pennsylvania more competitive.
At the forefront of this strategy is a commitment to simplicity and efficiency in state operations. The first step of this plan, Shapiro said, will be "simplifying the landscape of available programs and incentives available through DCED and growing a smaller set of essential tools that will be the most useful."
Earlier this year, an official review by the Shapiro administration identified more than 2,400 state licenses, permits, and certifications that fall under the governor's jurisdiction.
The creation of the Office of Transformation and Opportunity marked a pivotal step toward streamlining these processes, so much so that the PA Chamber made codifying the governor's executive order one of the pillars of our comprehensive permitting reform framework.
In his address, Shapiro noted the office's efforts will be another key part of this broader strategy, focused on making it easier for businesses to relocate or expand into Pennsylvania.
The governor also announced the launch of a new pilot program to support the redevelopment of business spaces across the Commonwealth. The Pennsylvania Strategic Investments to Enhance Sites Program (PA SITES) will provide at least $10 million in grant funding to assess existing sites across the Commonwealth and prepare them for remediation.
Additional areas of focus outlined by the governor include providing targeted support to some of Pennsylvania's fastest-growing industrial sectors (such as life sciences, agribusiness, manufacturing, technology and robotics, and energy) and fostering small business growth.
The plan itself will be created following a series of listening sessions with business and economic development leaders which DCED plans to host across the state in the coming weeks. The administration conducted similar meetings over the summer.
The PA Chamber welcomes this collaborative approach to economic development, and we look forward to working closely with Gov. Shapiro and his administration to enact meaningful reforms that will help make Pennsylvania the most competitive state in the nation for business.
###
Founded in 1916, the Pennsylvania Chamber of Business and Industry is the state's largest broad-based business association, with its membership comprising businesses of all sizes and across all industry sectors. The PA Chamber is The Statewide Voice of BusinessTM.