What You Need to Know About Credit Card Processing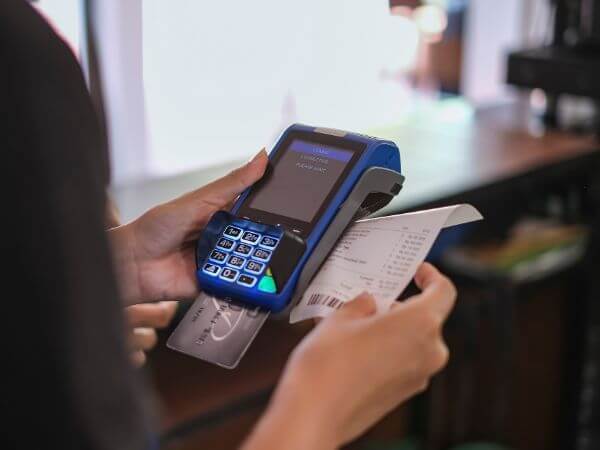 Source: US Chamber of Commerce
The best way to learn if credit card processing is right for your business is to weigh the pros and cons. Here's what you need to know if you're on the fence about opening a merchant account.
Consumers prefer credit, debit, and digital payment methods
According to the Federal Reserve Bank of Atlanta, "93% of U.S. consumers 18 and older" have a debit or credit card. It said people "rate cards highly for convenience." Credit and debit cards are easier to carry and use and allow for control over payment timing. Indeed, the Federal Reserve Bank of Atlanta stated, "In every year from 2015 to 2021, credit and debit cards were ranked first and second for convenience compared to other payment methods."
Likewise, 25% of Paysafe survey respondents said: "They're using digital wallets to pay for online purchases more often than they did a year ago." Since many credit card processors support mobile payment options like Google Pay or Apple Pay, opening a merchant account can allow customers to choose their preferred methods.
Credit card processing applications and acceptance rates vary by provider
While merchant account providers like Square or PayPal have a relatively quick application process, others require more information. Typically, flat-rate solutions take less time to get approved. They don't negotiate rates for small businesses with credit card processing volumes under $250,000 annually.
In contrast, merchant providers like National Processing base their rates on a company's average transaction amount, monthly sales volume, and more. An interchange plus pricing model can be cheaper for businesses with higher processing volumes. It's a good idea to know common credit card processing terms before comparing providers and rates.
Small companies can recover some credit card processing fees
Yes, swipe fees take a chunk of your small business sales. Fortunately, several well-known credit card processing solutions (Stax, Square, and Elavon) allow merchants to add a payment card surcharge or checkout fee to online and in-store purchases. Business owners must inform customers of the surcharge and follow certain rules. Additionally, there are several ways to reduce your payment processing fees.
Merchant account providers offer various payment processing solutions
Today's credit card processors understand that businesses and consumers need flexibility. As such, most offer various payment and hardware options. You can decide which methods suit your customers best or add new solutions as your company grows. Partnering with a merchant account provider is a way to expand into new markets and attract a diverse customer base.
Here are some merchant account services offered by credit card processing companies:
E-commerce: Payment processors provide gateways for accepting online payments through your existing website or online shop.
Contactless payments: With RFID (radio frequency identification), small businesses can let customers tap to pay at the register or curbside.
Buy now, pay later (BNPL): Some payment solutions provide BNPL services, allowing customers to pay their bills in installments.
Virtual terminal: Many credit card processors offer a free, web-based terminal for processing card-not-present (CNP) sales, like phone or mail orders.
Mobile: Digital wallets like Apple, Samsung, Google Pay, PayPal, Venmo, and QR (quick response) codes facilitate payment from a customer's cell phone. Alternatively, most processors provide mobile apps so business owners can process credit cards from smartphones.
Automated Clearing House (ACH): Most merchant service providers charge small fees for electronic, bank-to-bank money transfers for recurring subscriptions.
In-store hardware: Payment processing companies may sell or lease physical card readers, all-in-one point-of-sale (POS) systems, and pay-at-the-table devices.
###
The Columbia Montour Chamber of Commerce is a private non-profit organization that aims to support the growth and development of local businesses and our regional economy. We strive to create content that not only educates but also fosters a sense of connection and collaboration among our readers. Join us as we explore topics such as economic development, networking opportunities, upcoming events, and success stories from our vibrant community. Our resources provide insights, advice, and news that are relevant to business owners, entrepreneurs, and community members alike.  The Columbia Montour Chamber of Commerce is a proud member of the US Chamber, the source of this article.