Member News – August 30, 2023
Ken Pollock Ford Dealership Hosting Benefit Car Show
The annual Car Show to benefit Johns Hopkins Stepping Stones Transplant Patient Fund is being held at the Ken Pollock Ford Dealership in Berwick on Sunday September 17, 2023. Learn More.
Fromm Electric to Celebrate 100 years
Join Fromm Electric on September 28th from 11-1 pm at Fromm's Bloomsburg branch for an outdoor BBQ featuring a catered lunch and amazing giveaways from suppliers such as Milwaukee, Signify, and Eaton. The event is "rain or shine,". Find more details.
United in Recovery announces SCOPE Trainings
SCOPE Trainings provide evidence-based education for first responders, fire, EMS, police, employees, volunteers, and others affiliated with the agency on SUD, especially OUD. See full list of training dates.
CSIU offers a Community Health Worker Training Program
Community Health Workers (CHWs) are trained public health professionals who know their community and have the heart for helping others and serving their community. Learn more about the program the CSIU is offering here.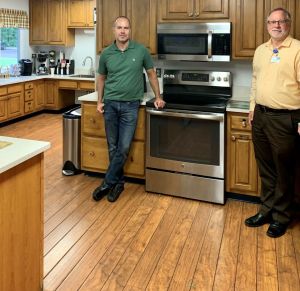 Forest & Field Provides Countertops to Ronald McDonald House
Chamber members Forest & Field and the Ronald McDonald House Danville recently worked together on new countertops in the Ronald McDonald House kitchen.   Forest & Field owner John Coates stopped in to see the finished look with Ronald McDonald House Director Mike Turlis.
PA CareerLink, Columbia Montour hosting Job Fair Oct. 5th
The 2023 Columbia-Montour Fall Job Fair will be held on Thursday, October 5th at the LCBC Church campus, 2421 Columbia Blvd., Bloomsburg, PA. The event will begin at 11:00 a.m. and close at 2:00 p.m. Businesses interested in attending can register here. Space is limited.
BNI Iron Valley hosting Visitors Day
Are you wondering what BNI is all about? Then you need to come to their next Visitors Day on September 6, 2023! The meeting is at the Pine Barn Inn Danville PA 17821 at 7:00 am.  Register to visit!
First Columbia Bank Photography back in 2023
The second annual 2023 First Columbia Bank Photography Competition is open for entries. Open to residents within a 50-mile radius of a First Columbia Bank office and local university students! Submit your captivating images by September 29th to photos@firstcolumbiabank.com. Entry is free!
Get the registration packet here.
SBDC September Training Events
In-person and virtual events are happening at SBDC this fall.  Check out the full schedule.
Community Giving Opens Healthy Workplace Grant
2023 Healthy Workplace grant-round for Community Giving Foundation is now Open!   The application opened on August 1, 2023, and the deadline to apply by August 31, 2023. Learn more.
T-Ross Announces Scholarship Recipients
In 2018, T-Ross Brothers Construction, Inc. established the T-Ross Brothers Construction Inc. Scholarship to support graduating seniors interested in construction-related fields of study. Check out who received this year's scholarships.
Bloomsburg Community Luau
Bloomsburg Community Luau, Saturday, September 9, 2023, at the Bloomsburg Town Park starting at 6PM. Enjoy live music and entertainment, great food, fun tropical activities, enter the Tiki Lounge decorating contest, and see Elvis on the outdoor big screen in the classic film Blue Hawaii. Bring a chair or blanket to relax and enjoy the entertainment at the corner of Market Street and Fort McClure Blvd.
The Teen Center Opens New Commercial Kitchen
With the help of the Community Giving Foundation, the Teen Center in Berwick was able to install a new commercial kitchen for teens to take their nutrition into their own hands!
Central Susquehanna Opportunities' Financial Workshops open for September
CSO offers a variety of free workshops to help you develop new skills and achieve your life goals. At our Community Action offices in Shamokin, Sunbury, and Bloomsburg, you can learn about budgeting, getting organized, improving your credit score, and more! See the full schedule here.
First Friday Happening in Bloomsburg
September 1st will see the DBI and Bloomsburg downtown businesses hosting First Fridays.  Check out a complete list of what's happening.
BTE To Offer Matinees and Workshops for
Shakespeare's 'Twelfth Night' in September
BTE's production of William Shakespeare's 'Twelfth Night' features special school matinees and workshops for middle and high school students in several regional venues. See venues here.
Weis Center Kicks Off 36th Season with Concert and Hoops on the Plaza with Bucknell Basketball Teams
The Weis Center's 36th Season will kick-off on Thursday, September 7 at 6 p.m. with a free concert by DC-based brass band DuPont Brass on the Weis Center Plaza. Come early for free family-friendly events from 5-6 pm.
Glen Brook teaming up for Estate Planning Seminar
Glen Brook Rehabilitation and Healthcare Center is hosting a free seminar on estate planning with Eric Young from Steinbacher, Goodall, and Yurchak on September 19th.  Learn More.
Bloomsburg Fair September 22 - 30th
The 168th Bloomsburg Fair will begin on September 22 with a preview day from 2:00 p.m. - 7:00 p.m.  Grandstand, admission, parking, and ride tickets are all on sale now! And don't forget to get your exhibits entered. Learn more about the Bloomsburg Fair.
Fall 2023 Career Expos
Commonwealth University of Pennsylvania is excited to bring the power of all 3 of our universities together to benefit our students and employer partners across the state in a Fall 2023 Accounting and Financial Services Career Expo and Management, Supply Chain, Marketing, Technology and Analytics Expo on campus in Bloomsburg.  Reach out to Darwin Kysor at 570-484-2181 to get more details about participation.
Camp Victory Community Open House Happening September 10th
Check out all the things planned for Camp Victory's 30th Anniversary Open house.
NEPIRC Manufacturing Day: October 13
Join NEPIRC on Friday, October 13th to celebrate the many contributions of our region's manufacturing industry! At Manufacturing Day, you'll be able to see product demonstrations; learn more about the cool products made right here in our local communities, and more!