Networking is a Bad Word. Build your Network Instead
By Chris Berleth
"Bad WORD!"
A few years ago, my wife and I decided to teach our young sons to call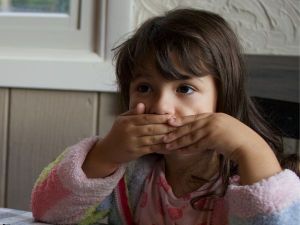 out curse words by proclaiming, "BAD WORD!" whenever they heard one. As bad words would pop up, we would help to identify them and give them a little context for why they're bad and shouldn't be repeated. Put into practice for several years, the results of the approach largely match what we were hoping for, but with a few unintended consequences.
No One is Safe
Alone in my shed a few weekends ago, a screwdriver slipped, and so did a four-letter word. Cursing for effect and dancing in pain, I turned just in time to catch the surprised, eyebrows-lowered glare of my five-year-old son, as he whispered in shock, "Daddy! Bad WORD!" Days later, a full amphitheater guffawed when my children yelled back in unison to the community players' script with, "BAD WORD!"
As good a habit as they've developed in not repeating the words themselves, no neighbor, grandparent, adult, or child is safe from the innocent rebukes of my children. This often leads to awkward and cringeworthy post-rebuke conversations, which I've taken to trying to prevent by anticipating social situations. I'm hyper-vigilant. In fact, my children's trained response is now so emblazoned on my own mind that whenever I'm exposed to a bad word myself, their voices ring in my head. It's Edgar Allan Poe's "The Telltale Heart" but for swear words.
Lately, the conversation has evolved from words to their meanings and intentions, which leads me to my main point. We need to start calling out bad words in our business community.
"Networking" is a Bad Word
When it originated, the word, "networking", meant "purposely meeting people to form acquaintances". The idea was that the more people you know and the more relationships you have, the more resources you have, and the better your business. It meant authenticity, altruism, and an equal exchange. It doesn't mean that anymore.
Lately, the word has taken on an ugly new meaning, and has become less about forming genuine connections, and more about aggressive sales pitches to a captive audience. Worse still, we've sullied the word by associating it with social media, where everyone you're even remotely connected to is deemed your "friend" and your "network".
Here's the consequence of this shift in meaning: everybody knows they should be networking (75% of businesses who join the Chamber do so because of networking opportunities), but nobody wants to do it if it means being pitched and sold at every opportunity. Post-pandemic, we're so hyper-aware of the value of our time that we have no time for inauthentic interactions.
We need to change our approach from "networking" to "building a network".
Let's Build a Network Instead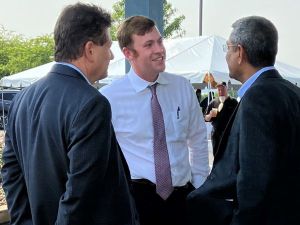 At the Chamber, we're committed to guiding the shift back to the word's original meaning, and we're content to call out the bad words when we hear and see them.
Look no further than the last Business After Hours for an example of how life-altering it can be to build your network. Following a lovely ribbon cutting at the Comfort Suites, Chamber members gathered to listen to great music, eat Quaker Steak & Lube wings, tour the beautifully renovated hotel, play some icebreaker bingo, drink Marley's beer and sample Dead Man Walking Distillery's moonshine in a large, A.O. Rent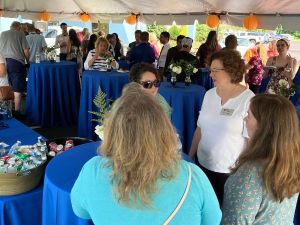 tent. It didn't matter that it was 90 degrees, because it wasn't stuffy – we had fun! Seventy people endured the heat to build genuine connections.
One young woman perfectly encapsulated what was happening in that tent when, as she stood next to her husband, she asked, "Does anybody know a good divorce attorney?"
Her husband didn't bat an eye. As it turns out, the happily married couple had a friend whose husband had filed for divorce outside the U.S., and they were hoping to connect with somebody they could trust who could help her. All she cared about was making genuine connections – not what other people thought of her question, or how it might be interpreted. She didn't go in looking to sell something, she went in looking to help.
Who do you call when you have a business issue like a supply chain problem, or want to bounce ideas off colleagues about how to pack up and move your office? The new direction you want to take your team? What if instead of garnering the raised eyebrows of your staff, your colleagues or your superiors, you had a few discreet business contacts to flesh out those ideas? Can you name three people like that in the Columbia Montour region? Two? One?
We're tired of "networking" for networking's sake, and we bet you are too, so let's stop using that word. Let's instead build a network of people – professionals - that we can call on to help each other. There's a palpable difference, isn't there?