Member News – July 26, 2023
First Columbia Bank Photography back in 2023
The second annual 2023 First Columbia Bank Photography Competition is open for entries. Open to residents within a 50-mile radius of a First Columbia Bank office and local university students! Submit your captivating images by September 29th to photos@firstcolumbiabank.com. Entry is free!
Get the registration packet here.
Summer Concert Series Continues in Danville, Bloomsburg, Berwick, Catawissa
Have you connected with this midweek fun?  Check out the concerts in Danville (Tuesdays, 7 PM at Memorial Park), Bloomsburg (Wednesdays, 7 PM at the Bloomsburg Town Park), Berwick, (Thursdays 7 PM at Jackson Mansion) and Catawissa (Tuesdays, 7 PM at Cara Park, South 4th St.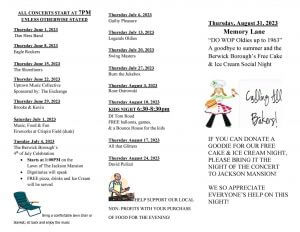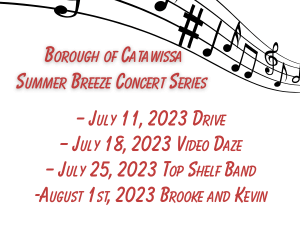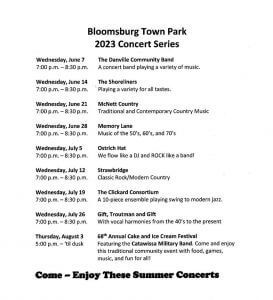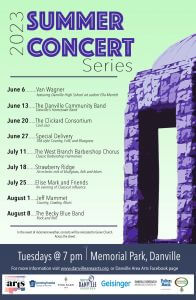 Member Businesses Looking for New Hires
Submit your job opens in the Chamber and get them listed on our website.  Check out who is hiring.
Webinar: Manufacturing Panel Discussion
On July 27 at 2:00 pm, the manufacturing team at McKonly & Asbury will host this roundtable discussion with Janice Snyder, Brett Bauer, Dave Hammarberg, and Jeremy Peachy.  Attendees will gain insight on cybersecurity concerns, recent tax changes impacting manufacturers, and attracting and retaining staff.  The webinar is free and one "specialized knowledge" CPE credit is available for this webinar.  Register today.
Bloomsburg Community Luau
Bloomsburg Community Luau, Saturday, September 9, 2023, at the Bloomsburg Town Park starting at 6PM. Enjoy live music and entertainment, great food, fun tropical activities, enter the Tiki Lounge decorating contest, and see Elvis on the outdoor big screen in the classic film Blue Hawaii. Bring a chair or blanket to relax and enjoy the entertainment at the corner of Market Street and Fort McClure Blvd.
Commonwealth University - Bloomsburg Offers Parking Help
Commonwealth University - Bloomsburg is making their hospital parking lot available until classes start on August 21, 2023, for those customers and business owners who are losing their parking spaces due to the construction on the East Pine Avenue lot construction. Thank you to Commonwealth University - Bloomsburg for the help to Bloomsburg businesses.
Drive-through Senior Expo Planned
On Wednesday, August 2, 10:00 am - 1:00 pm, a Drive through Senior Expo will be sponsored by State Representative Robert Leadbeter's office. See flyer for more details.
CSIU To Hold Free Training
Educators, First Responders, and Community Members register today for free trainings on Youth Mental Health First Aid and QPR Suicide Prevention.  See a full list of dates and times here.
IMC to host Webinar Series
The Innovative Manufacturers' Center will be hosting a free four-part webinar series about attracting and retaining employees. The series starts July 25th.  See full details.
BTE announces 46th Season
New Faces, New Spaces are coming your way care of the Bloomsburg Theatre Ensembles' 46th season.  Check out the season line-up.
Fall 2023 Career Expos
Commonwealth University of Pennsylvania is excited to bring the power of all 3 of our universities together to benefit our students and employer partners across the state in a Fall 2023 Accounting and Financial Services Career Expo and Management, Supply Chain, Marketing, Technology and Analytics Expo on campus in Bloomsburg.  Reach out to Darwin Kysor at 570-484-2181 to get more details about participation.
BU Community Day Fair & Carnival
Set to take place August 18, from 6 PM to 8 PM, this event is on the B.U. Academic Quad and provides students with the opportunity to connect to the community.  Local businesses and non-profit organizations are encouraged to attend.  Learn more by reaching out here to Rebecca Toth, at 570-389-4189.  See the flyer.  
NEPIRC Manufacturing Day: October 13
Join NEPIRC on Friday, October 13th to celebrate the many contributions of our region's manufacturing industry! At Manufacturing Day, you'll be able to see product demonstrations; learn more about the cool products made right here in our local communities, and more!
Stunning fall foliage and cooler temperatures create the perfect atmosphere for this first annual, family-friendly downtown Bloomsburg event.  Read more.