New Member Highlight – Balanced Bear Bookkeeping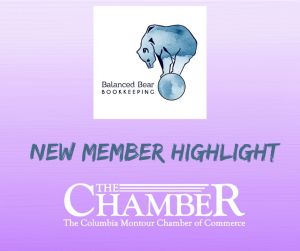 Balanced Bear Bookkeeping, LLC, established in February of 2022, brings a unique, personalized approach to the realm of bookkeeping services. While the business has a special focus on supporting health and allied health professionals, it also extends its specialized services to other service-based businesses.
Founder Torie Brabander, with her decade-long experience in healthcare and certified bookkeeping skills, offers exceptional support tailored to the needs of each business.
At Balanced Bear Bookkeeping, it's not just about numbers. The philosophy is centered around treating each client as a unique individual. This approach is deeply rooted in Torie's background in patient care, emphasizing the importance of compassionate, individualized service.
Balanced Bear Bookkeeping is committed to alleviating the bookkeeping burden for small businesses, enabling them to concentrate on their passions, their work, and their clients.
Reach out to Torie today if you are in need of bookkeeping services!