Member News – July 19, 2023
NEPIRC Enters Alliance Agreement with OSHA
The Northeastern Pennsylvania Industrial Resource Center (NEPIRC) announced that it has entered into a two-year Alliance Agreement with the U.S. Department of Labor's Occupational Safety and Health Administration (OSHA). Read full press release here.
Geisinger Janet Weis Children's Hospital receives National Recognition
Dr. Alfred P. Kennedy from Geisinger Janet Weis Children's Hospital talks about Geisinger's recent Level II National Verification from the American College of Surgeons and what it means to the surgical team as well as Geisinger's patients and families. Via Eyewitness News WBRE WYOU
Penn College Receives $2 Million, Federal Grant
Awarded by the U.S. Commerce Department's Economic Development Administration, the grant aims to attract and upskill the current and future workforce to meet the increasing demand for clean energy, architecture, construction, and concrete science professionals. Learn More about the grant here.
North Shore Railroad Wins Jake Safety Award with Distinction
The American Short Line Railroad Association recognized North Shore Railroad with the Jake Award with Distinction for performing better than the Class II and III industry average injury frequency rate as reported by the Federal Railroad Administration.  Read more about this award.
Columbia Montour Visitors Bureau's Digital Quarterly Magazine
Enjoy the Summer edition of the Columbia Montour Visitor's Bureau's Quarterly Digital Magazine. 
Teen Center and Children's Museum Team Up
Tuesdays the center and Bloomsburg Children's Museum, with support from Nuts, Bolts & Thingamajigs Foundation, host "How Did You Make That?" summer camp, an exciting and innovative opportunity designed to inspire and educate youth who are interested in various manufacturing techniques and potential career options.
Sekisui Kydex - what do they do?
Check out this cool YouTube Short to find out.
Summer Concert Series Continues in Danville, Bloomsburg, Berwick, Catawissa
Have you connected with this midweek fun?  Check out the concerts in Danville (Tuesdays, 7 PM at Memorial Park), Bloomsburg (Wednesdays, 7 PM at the Bloomsburg Town Park), Berwick, (Thursdays 7 PM at Jackson Mansion) and Catawissa (Tuesdays, 7 PM at Cara Park, South 4th St.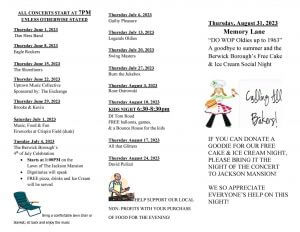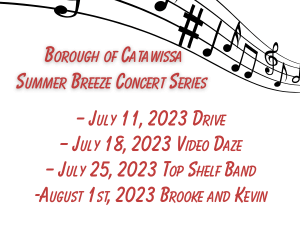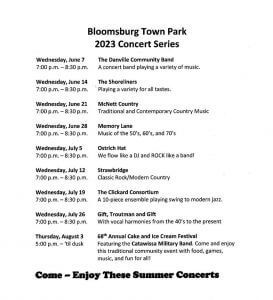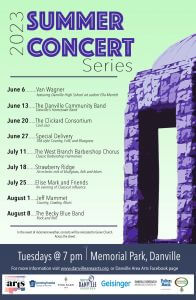 Miller-Keystone Blood Centers in Need of Donations
Blood supplies drop in the summer and Miller-Keystone Blood Centers are in need of all blood types.  To learn more about giving blood and finding a donation center click here.
Steinbacher, Goodall & Yurchak Named to PA Business Central's "Fifty to Follow" Women-Owned Businesses
Steinbacher, Goodall & Yurchak, an elder law and special needs law firm has been named to an annual list of the top 50 women-owned organizations in its coverage area.  Learn more about their third straight year appearing on this list.
Webinar: Manufacturing Panel Discussion
On July 27 at 2:00 pm, the manufacturing team at McKonly & Asbury will host this roundtable discussion with Janice Snyder, Brett Bauer, Dave Hammarberg, and Jeremy Peachy.  Attendees will gain insight on cybersecurity concerns, recent tax changes impacting manufacturers, and attracting and retaining staff.  The webinar is free and one "specialized knowledge" CPE credit is available for this webinar.  Register today.
Third Thursday's Happening In Danville July 20th
Check out all the activities happening in Danville tomorrow.
Commonwealth University - Bloomsburg Offers Parking Help
Commonwealth University - Bloomsburg is making their hospital parking lot available until classes start on August 21, 2023, for those customers and business owners who are losing their parking spaces due to the construction on the East Pine Avenue lot construction. Thank you to Commonwealth University - Bloomsburg for the help to Bloomsburg businesses.
Mark Sassani Show at The Exchange
Now through July 21st Mark Sassani's Solo Show will be at The Exchange.  His fine-art expression consists mainly of colorful landscapes of east-central and northern-tier Pennsylvania. See full show details here.
"It's easy to brush off chronic acid reflux, especially if it's mild, but excessive GERD symptoms should be taken seriously, explains Amitpal S. Johall, MD, FASGE, chair of gastroenterology at Geisinger.  Read more. 
Drive-through Senior Expo Planned
On Wednesday, August 2, 10:00 am - 1:00 pm, a Drive through Senior Expo will be sponsored by State Representative Robert Leadbeter's office. See flyer for more details.
CSIU To Hold Free Training
Educators, First Responders, and Community Members register today for free trainings on Youth Mental Health First Aid and QPR Suicide Prevention.  See a full list of dates and times here.
IMC to host Webinar Series
The Innovative Manufacturers' Center will be hosting a free four-part webinar series about attracting and retaining employees. The series starts July 25th.  See full details.
NEPIRC Manufacturing Day: October 13
Join NEPIRC on Friday, October 13th to celebrate the many contributions of our region's manufacturing industry! At Manufacturing Day, you'll be able to see product demonstrations; learn more about the cool products made right here in our local communities, and more!
Stunning fall foliage and cooler temperatures create the perfect atmosphere for this first annual, family-friendly downtown Bloomsburg event.  Read more.