New Member Highlight – Cookies and More by the Tea Ladies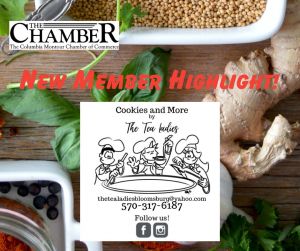 Cookies and More was started in December 2018 by Lucy Hergan, Sharon Shultz and Deb Barnhart who have worked in the food industry for about 20 years.
Starting out with cookies for Christmas and trays of lasagna and growing into a food-to-go business featuring a rotating menu every week.
Most Tuesdays from 2:30 - 6:30 you will see a line of cars in the parking lot of the Caldwell Consistory in downtown Bloomsburg filled with hungry patrons picking up their orders.
Menus are posted on the Cookies & More by the Tea Ladies Facebook page and orders can be placed through their page or by giving them a call at 570-317-6187.  Orders need to be in no later than noon on Sundays.