Small Businesses Optimistic Despite Inflation Concerns
Source: U.S. Chamber of Commerce
Author: Thaddeus Swank, Senior Writer and Editor, Strategic Communications, US Chamber of Commerce
Small business owners have record-breaking optimism about the future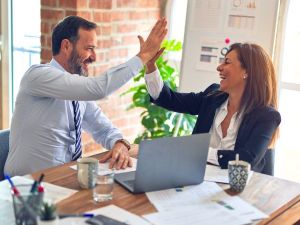 right now, according to new data in the Q2 2023 MetLife and U.S. Chamber Small Business Index. The report comes amid the news in June of the Federal Reserve pausing interest rate hikes, and robust housing starts data. Both hiring plans and revenue expectations reached record highs for the Index this quarter, which began in 2017. A record-high share of small business owners (71%) expects their revenue to increase in the next year. In addition, a record-high share anticipates hiring more staff in the next year (47%, up from 37% last quarter). Also, almost half (42%) of small businesses say they plan to increase investment in the next year, consistent with last quarter (38%). Other recent small business surveys echo this optimism. In TD Banks' 2023 Small Business Survey released June 21, 80% of small businesses voiced optimism about how they will do in the next 12 months.
Higher Interest Rates Dampen Growth Plans
Fully half (50%) of U.S. small businesses report that they have delayed plans to grow their business in response to higher interest rates. In the face of higher rates, small businesses are turning to a diverse range of financing to grow. A majority of small businesses still report relying on their personal savings (71%) and credit cards (67%) as the top sources for funding their small businesses. A lesser amount—but still a majority (59%) of small businesses—seek funding from local banks or credit unions. Majorities of small business owners say it's harder to borrow money for their business from banks because they are tightening lines of credit (73%) and express concern about rising interest rates making it harder to pay back current business loans (74%). While rising rates have implications for the broader economy, nine in ten (91%) small business owners agree that small businesses are the most vulnerable to rising interest rates (including 52% that strongly feel this way).
Inflation Remains Top Concern
This is the sixth consecutive quarter where inflation tops the list of challenges for small business owners. More than half (54%) say inflation is a top challenge followed by interest rates rising (23%), supply chain issues (23%) and revenue (20%). However, more small businesses (23%) indicate that rising interest rates are a top concern this quarter, after this measure plateaued at about 15% throughout 2022. Since Q3 2021, when this was first asked, concerns over rising interest rates have climbed 16 percentage points. The Index's overall score rose slightly to 63.1 from 60.0 last quarter. This is near findings in Q4 2022 (62.1).
The Q2 2023 SBI survey was conducted between May 8-24, 2023. For more findings from this quarter, and to explore and browse years of small business data, visit: https://www.uschamber.com/sbindex/.
###
Thaddeus Swank is a senior writer and editor of the MetLife and U.S. Chamber of Commerce Small Business Index. He works on the U.S. Chamber of Commerce's strategic communications team.
The Columbia Montour Chamber of Commerce is a longstanding member of the U.S. Chamber, upon whom it relies for high-quality, expert perspectives on national economic trends, policy, and data.