Member News – July 5, 2023
Service 1st Federal Credit Union Announces New President/CEO
Service 1st Federal Credit Union recently held its Annual Meeting and shared newly elected board members and honored retiring President/CEO Bill Lavage. Lavage and Steve Endress, Service 1st Board Chairperson, also introduced Mike Thomas, Chief Financial Officer, as the credit union's new President/CEO. See the full announcement here.
Bloomsburg Children's Museum Announces July Programs
The Bloomsburg Children's Museum, 2 West 7th Street, is pleased to announce its July 2023 programs. See the full July Calendar here.
DRIVE to Host Community Broadband Meeting
DRIVE is seeking community engagement during discussions on broadband use and experiences. The community meeting is from 11:30 a.m. to 1 p.m. on July 6 at the DRIVE Professional Building at 418 Railroad St. in Danville. Residents of Columbia, Montour, Northumberland, Snyder, and Union counties are invited to attend.
Bason Coffee Roasting to host Cops & Coffee July 8, 10 am - 12 pm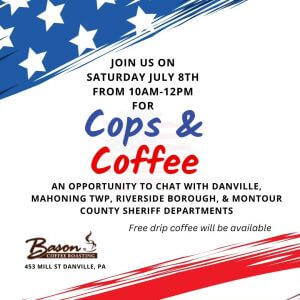 Bason Coffee Roasting invites you to chat with police officers from local departments at the retail store at 453 Mill St. on Saturday July 8, as they get to know the community better.  Free drip coffee will be available!
The Benton Rodeo is considered one of the best of over 65 rodeos east of the Mississippi River, as voted by the American Professional Rodeo Association and draws cowboys and cowgirls from all over the country as well as Canada. They come to the rodeo to show what they've got and to compete with the best of the best. The Benton Area Rodeo Association is a non-profit organization whose goal is to stimulate tourism to the Benton area to provide fundraising opportunities to Local Charities, Service Groups, Fire Companies, Ambulance Associations, Scouts, and Churches. This event is growing each and every year, so don't sit at home. Come be a part of this awesome event. You won't be disappointed.
Commonwealth University - Bloomsburg Offers Parking Help
Commonwealth University - Bloomsburg is making their hospital parking lot available until classes start on August 21, 2023, for those customers and business owners who are losing their parking spaces due to the construction on the East Pine Avenue lot construction. Thank you to Commonwealth University - Bloomsburg for the help to Bloomsburg businesses.
SEDA-COG Joint Rail Authority Celebrates 40 Years
On June 29th, the SEDA-COG Joint Rail Authority was officially incorporated under the provisions of the Municipality Authorities Act. The JRA would have its first board meeting on July 6, 1983, and would finalize the purchase of the first rail lines a year later, on July 27, 1984...the rest is history! Congratulations to SEDA-COG Joint Rail Authority.
Brookdale Senior Living shares how to reconnect with friends with whom you've lost touch.  Read more.
Happy 97th Birthday to Knoebels Amusement Resort!
Knoebels celebrated Independence Day and their birthday on July 4th, noting that they're only three years away from a season-long 100th-anniversary celebration.  Happy Birthday!
Drive-through Senior Expo Planned
On Wednesday, August 2, 10:00 am - 1:00 pm, a Drive through Senior Expo will be sponsored by State Representative Robert Leadbeter's office. See flyer for more details.
Emergency Planning Committee to Meet
Columbia County Local Emergency Planning Committee (LEPC) will meet on Monday, July  10, 2023, at 4:45 in the County EOC.
Mark Sassani Show at The Exchange
Now through July 21st Mark Sassani's Solo Show will be at The Exchange.  His fine-art expression consists mainly of colorful landscapes of east-central and northern-tier Pennsylvania. See full show details here.
CSIU To Hold Free Training
Educators, First Responders, and Community Members register today for free trainings on Youth Mental Health First Aid and QPR Suicide Prevention.  See a full list of dates and times here.
Villa Sacred Heart Summer Festival Planned
July 8th, 10:30 - 5:00 Villa Sacred Heart in Danville will host a Summer Festival.  Baked goods, Flea Market, food trucks, and more!
WWII Weekend Happening in July
The annual WWII weekend hosted by the Stuart Tank Memorial Association will be happening July 14th - July 16th.  This free event features battle and weapon demonstrations, military and food vendors. Learn more.
IMC to host Webinar Series
The Innovative Manufacturers' Center will be hosting a free four-part webinar series about attracting and retaining employees. The series starts July 25th.  See full details.
NEPIRC Manufacturing Day: October 13
Join NEPIRC on Friday, October 13th to celebrate the many contributions of our region's manufacturing industry! At Manufacturing Day, you'll be able to see product demonstrations; learn more about the cool products made right here in our local communities, and more!