Member News – June 28, 2023
Commonwealth University - Bloomsburg Offers Parking Help
Commonwealth University - Bloomsburg is making their hospital parking lot available until classes start on August 21, 2023, for those customers and business owners who are losing their parking spaces due to the construction on the East Pine Avenue lot construction. Thank you to Commonwealth University - Bloomsburg for the help to Bloomsburg businesses.
Drive through Senior Expo Planned
On Wednesday, August 2, 10:00 am - 1:00 pm there will be a Drive through Senior Expo sponsored by State Representative Robert Leadbeter's office. See flyer for more details.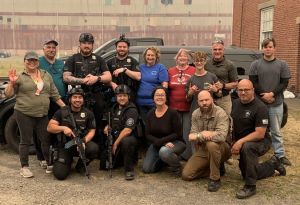 BIDA Works with Berwick Borough Police Department for Active Shooter Training
Berwick Industrial Development Association (B.I.D.A.), worked with Berwick Borough Police Department and Chief Kenneth Strish and their active shooter training program which included volunteers from the community.  See the full press release here.
Knoebels Celebrating 50th Birthday of Haunted Mansion
June 30th at 11:00 am with a panel of Haunted Mansion legends and birthday cake.  Check out all they have planned for this spooky celebration.
Town of Bloomsburg Presents an Independence Day Celebration
Starting at 4:00 pm at Bloomsburg Town park there will be an Independence Day Celebration including fireworks at dusk.  See flyer for more details.
Bloomsburg Children's Museum Announces July Programs
The Bloomsburg Children's Museum, 2 West 7th Street, is pleased to announce its July 2023 programs. See the full July Calendar here.
Mark Sassani Show at The Exchange
Now through July 21st Mark Sassani's Solo Show will be at The Exchange.  His fine-art expression consists mainly of colorful landscapes of east-central and northern-tier Pennsylvania. See full show details here.
Concert Series at the Jackson Mansion
June 1 - August 31 with all concerts starting at 7:00 pm unless otherwise stated on the concert schedule. See the full concert schedule.
Innoteck wins International Award
For the third year, InnoTek has placed in the top 501 MSPs and IT Companies Worldwide - coming in at #279! This award sees over thirty thousand applicants every year, and recognizes the best managed service providers in the world.  Congratulation to Fred Reck and the Innotek team!
Danville Concert Series at Memorial Park
Tuesdays throughout the summer concerts will be held at Memorial beginning at 7:00 pm.  For a full list of performers and dates visit Danville Area Arts Facebook page.
Penn College to launch paramedic certificate program in early 2024
The noncredit paramedic certificate program, requiring an EMT certification, will begin on January 2. Those who are interested in the program are invited to attend an information session on Thursday, June 29 at 7 p.m. Learn more about this program.
Bloomsburg Town Park Concert Series
Wednesday's June - August from 7:00 - 8:30 at the Town of Bloomsburg Bandshell which is located at the corner of Ft. McMlure Blvd. and Market St.  Check out the town's Facebook for a full schedule. 
McKonly & Asbury to hold State and Local Tax Webinar June 29th
This free, one-hour webinar will start at 2:00 p.m. EDT. One "Tax" CPE credit is available for this webinar. The level for this webinar is basic and there are no prerequisites for attending. This program is a live webinar that offers the opportunity to ask questions and interact with the presenters. Sign up here.
CSIU To Hold Free Trainings
Educators, First Responders, and Community Members register today for  free trainings on Youth Mental Health First Aid and QPR Suicide Prevention.  See a full list of dates and times here.
Villa Sacred Heart Summer Festival Planned
July 8th, 10:30 - 5:00 Villa Sacred Heart in Danville will host a Summer Festival.  Baked goods, Flea Market, food trucks, and more!
WWII Weekend Happening in July
The annual WWII weekend hosted by the Stuart Tank Memorial Association will be happening July 14th - July 16th.  This free event features battle and weapon demonstrations, military and food vendors. Learn more.
IMC to host Webinar Series
The Innovative Manufacturers' Center will be hosting a free four-part webinar series about attracting and retaining employees. The series starts July 25th.  See full details.
NEPIRC Manufacturing Day: October 13
Join NEPIRC on Friday, October 13th to celebrate the many contributions of our region's manufacturing industry! At Manufacturing Day, you'll be able to see product demonstrations; learn more about the cool products made right here in our local communities, and more!