June BAH Recap: A Quality of Living Pathway…and Dignity
By Chris Berleth, President Columbia Montour Chamber of Commerce
If you've been keeping up with your Columbia Montour Chamber of Commerce over the past several years, you've probably heard us talk about 'pathways' and 'pipelines'. Yes, you've heard us talk about natural gas pipelines, and through the Chamber's Foundation, you've likely heard about workforce and talent pipelines or the "path to careers" programs which connect students and workers to meaningful career experiences. (If you haven't heard about either, you absolutely must connect with the good work being done by Jeff Emanuel to galvanize of our workforce.) Today, I'm excited to shed light on an emergent pipeline in Columbia and Montour Counties– a quality of life pipeline so-to-speak, or, as The Gatehouse would call it, a "pathway to independence".
With seven rooms (five dedicated to families, and two for individuals), The Gatehouse is a shelter for the homeless that empowers its residents as they seek to gain independence as quickly as possible. Through employment services, furthering education, and life skills development (like financial literacy classes), The Gatehouse connects residents to employment, educational and rental assistance opportunities through the PA CareerLink, Central Susquehanna Opportunities, and the Department of Human Services. They are the first step on the path, or the first section of pipe.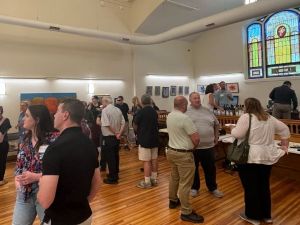 Blocks from the Chamber, at the site of a 100-year-old former church in downtown Bloomsburg, stained-glass windows shed light on the second part of the pipeline. Dubbed "Bill's House", after Bill Brobst, who donated it to the community, the building has been transformed by Community Strategies Group (CSG) from a spiritual sanctuary to a physical one, complete with nine individual apartments.
In June, the Chamber held its Business After Hours at Bill's House thanks to a partnership between CSG, The Exchange, and The Gatehouse, and the event was a smashing success. Gathering in the former sanctuary of the church, which is now home to the Sanctuary Gallery, CSG Deputy Director Josh Nespoli explained the vision for the space, and introduced Jon Gabry, a blind and deaf artist whose use of textured paints and vibrant color were humbling to behold.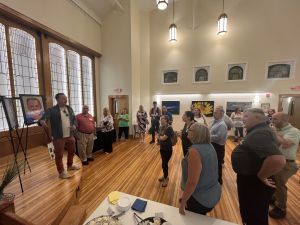 In the pin-drop silence of the room, Nespoli recounted the vision: The Gatehouse shelters and equips the homeless, who transition to Bill's House on a path to independent living. Once successful there, residents will have an opportunity to strike out on their own, and, with CSG's help, their newfound success can continue right here, as affordable housing at the soon-to-be opened Mulberry Mill complex brings the former Bloom Mills site back to life.
As guests left with art pieces under their arms and mesmerized smiles at Mr. Gabry's work, your Chamber did its best to slip our most recent project under their arms as well – the fresh-off-the-printer relocation guide assembled by the Chamber, the Columbia-Montour Visitor's Bureau, and Victor Koons Graphic Design, called "Quality Living in Columbia and Montour Counties."
We've heard over and over again, and we agree that one of the stories that must be told about our region is its appeal for families, for businesses, and for visitors. We're excited that we'll get to see first-hand the success of the residential portion of the Mulberry Mill complex (the Chamber will be relocating later this summer to the commercial space in the first floor), but we're most excited that the mentality so prevalent in our two-county footprint is on care for one another, goodwill, and quality of life. Hat's off to The Exchange and The Gatehouse for creatively partnering together, but a special nod should be tilted towards our friends at Community Strategies Group, who capped the Business After Hours with a big announcement: they've been awarded the inaugural "Kathy A. Possinger Achievement Award" by PA's Department of Community and Economic Development, for their tireless efforts and integral role in improving the lives of lower income persons.
May you soon stop in to see Chamber members like these, who make Columbia and Montour Counties such an incredible place to live, work, and play – with an extra dose of dignity.