Quality Living in Columbia and Montour Counties Now Available!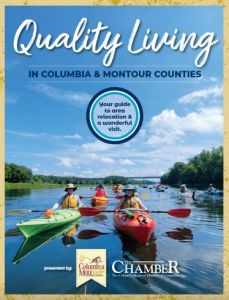 The Columbia Montour Chamber of Commerce, in partnership with The Columbia-Montour Visitors Bureau and Victor Koons Graphic Design, is pleased to present to the community our newest publication for 2023, Quality Living in Columbia and Montour Counties.  This image book includes information about business/industry, demographics, education, healthcare, housing/real estate, recreation, arts/culture, and more, and is now available to our community in print, via download, and via the Chamber's website as an easy-to-view flipbook.
Take a look at the guide's permanent online page here.
Request copies by calling Brenda Flanagan, Administrative Assistant, at (570) 784-2522 or by emailing bflanagan@columbiamontourchamber.com.