Member News – June 14, 2023
MC Federal Credit Union wins Award
MC Federal's "The Road to Financial Wellness" a six-week course with topic areas for each week has won the CrossState Credit Union Association's Desjardins Adult Financial Education Award. This program will now advance to the national level of competition. Congratulations to them and good luck at the national level!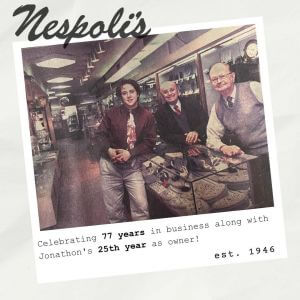 Nespoli Jewelers Celebrating Two Milestones
This summer Nespoli Jewelers of Berwick is celebrating 25 years of third-generation ownership and 77 years in business.  Congratulations Jonathon Nespoli and to the Nespoli Family.
Celebration Villa to host VA Benefit Informational Session
This June 15th event is open to the public beginning at 2:00 pm. If you have questions about VA benefits that are available, join Bridget Kingston the local Columbia County VA rep at Celebration Villa Berwick.  See session flyer here.
SBDC's Business Startup Basics Workshop June 15th
The SBDC's Business Startup Basics in-person workshop helps aspiring entrepreneurs take the First Step to successful business ownership. This free workshop will begin at 9:30 am.  Register here.
Virtual Pennsylvania Careerlink Agricultural Roundtable Discussion
Join PA Careerlink for a vitural discussion about today's most pressing challenges for the Central PA Agricultural Industry.  June 20th at 10:00.  Click here to Register.
Concert Series at the Jackson Mansion
June 1 - August 31 with all concerts starting at 7:00 pm unless otherwise stated on the concert schedule. See full concert schedule.
Community Giving Foundation Announces new Funds
Two testamentary funds have been established by former Chamber Board member Mark Gardner with Community Giving Foundation. The first will be focused on support for non-profit organizations in Columbia and Montour counties and the second is a scholarship fund for students graduating from Danville Area School District.  Learn more about these funds.
Penn College to launch paramedic certificate program in early 2024
The noncredit paramedic certificate program, requiring an EMT certification, will begin on January 2. Those who are interested in the program are invited to attend an information session on Thursday, June 29 at 7 p.m. Learn more about this program.
2nd Annual Recovery Picnic to be Held in June
Susquehanna United Way's United in Recovery program will be hosting its 2nd Annual Recovery Picnic on June 15, 11:00 am - 1:30 PM at 163 Briar Creek Lake Park Road, Berwick, PA, 18603. RSVP to the event here.
Bloomsburg Town Park Concert Series
Wednesday's June - August from 7:00 - 8:30 at the Town of Bloomsburg Bandshell which is located at the corner of Ft. McMlure Blvd. and Market St.  Check out the town's Facebook for a full schedule. 
McKonly & Asbury to hold State and Local Tax Webinar June 29th
This free, one-hour webinar will start at 2:00 p.m. EDT. One "Tax" CPE credit is available for this webinar. The level for this webinar is basic and there are no prerequisites for attending. This program is a live webinar that offers the opportunity to ask questions and interact with the presenters. Sign up here.
CSIU To Hold Free Trainings
Educators, First Responders, and Community Members register today for  free trainings on Youth Mental Health First Aid and QPR Suicide Prevention.  See a full list of dates and times here.
Press Enterprise to hold "Best of the Best" Contest
Nominations for the Press Enterprise's "Best of the Best" contest close on the 18th.  This contest is a community-voted contest recognizing exceptional local businesses. For more information on this contest reach out to the Press Enterprise at ana.rodriguez@pressenterprise.net.
Berwick Historical Society to Host Grand Opening
June 24th will see the grand opening of the David A Sadock House in Berwick.  Visit and tour the home of the Berwick Historical Society Library & Museum from 1:00 pm to 3:00 pm. Some of the areas and displays include the Prominent Citizens of Berwick, Berwick Business, Historic Homes, ACF Military Room, Fashions of Berwick, Berwick Schools, Genealogy, and Book Room.
IMC to host Webinar Series
The Innovative Manufacturers' Center will be hosting a free four-part webinar series about attracting and retaining employees. The series starts July 25th.  See full details.
NEPIRC Manufacturing Day: October 13
Join NEPIRC on Friday, October 13th to celebrate the many contributions of our region's manufacturing industry! At Manufacturing Day, you'll be able to see product demonstrations; learn more about the cool products made right here in our local communities, and more!