Chamber Day at the Capitol Key Takeaway: Engage with Your Chamber
By Chris Berleth, President, Columbia Montour Chamber of Commerce
Last year, a small, mom-and-pop restaurant along Route 61 in Schuylkill County discovered that their lower, experience-based unemployment compensation tax rates were being assessed a gigantic rate increase. Turns out, that since they were forced into prolonged, pandemic-related shutdowns, their rate reverted to a default level. Yikes.
Thankfully, they were a member of their local chamber, who brought up the issue in a coalition call with the PA Chamber of Business & Industry and several other regional chambers. As it turns out, that Schuylkill County-based mom-and-pop shop wasn't alone. More than 2,700 businesses in Pennsylvania who had rehired their staff post-pandemic were also assessed rate increases, and under the law, there was nothing that could be done to help them short of legislative action.
Chamber leaders are frequently asked, "what exactly does a chamber of commerce do?" While the precise answer varies by region, the best answer that applies to all Chambers remains: "we advocate for our members."
In this instance, the Schuylkill Chamber of Commerce elevated the issue to the right people, and a coalition of more than 60 chambers, including the Columbia Montour Chamber, was born. Thanks to the PA Chamber of Business & Industry, who organized efforts in Harrisburg, the legislature passed S.B. 1083, which brought the relief these businesses needed.
You might be thinking, "Chris, this is old news, why retell it?" My answer is a call-to-action and a reminder: engage with The Columbia Montour Chamber, so that we can help you in the same way!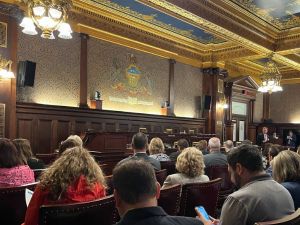 Yesterday (June 13), Taryn Crayton, Director of Member Engagement, and I had the opportunity to participate in "Chamber Day at the Capitol", a partnership between the Pennsylvania Association of Chamber Professionals and the state Chamber. The event was packed with invaluable information, including insight into the state budget and its negotiations, policies that will make Pennsylvania more competitive and attractive to workers, and some policies that could negatively impact your organizations.
Speaker of the House Joanna McClinton (D-Philadelphia) shared about the importance of continuing to make the Commonwealth competitive through reduction of the corporate net income tax. House Appropriations Chair Jordan Harris (D – Philadelphia) and Senate Appropriations Chair Scott Martin (R-Lancaster) discussed how to better fund education, and their agreement to have the Motor Vehicles License Fund be entirely focused on repairing bridges and roads. PA Secretary of Community and Economic Development Rick Siger outlined a plan for improved efficiency in permitting.
The PA Chamber gave an overview of the influence on the courts, and reminded Chamber leaders of meaningful upcoming elections for offices like the State Supreme Court, Auditor, Treasurer, and more.
A panel of workforce experts, including our very own Hope Lineman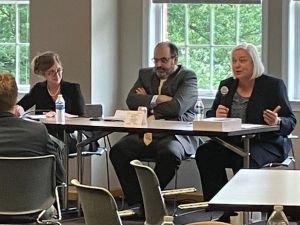 (Hope serves on the Board of the Foundation of the Columbia Montour Chamber of Commerce, and works as Advisor to the Chancellor for Workforce Innovation, PASSHE), shared how higher education institutions are working together to offer valuable resources to train a generation of new workers in an "ecosystem of skills-based education".
We discussed permitting reform at the state and federal level, the now-open grant process for broadband expansion through the Pennsylvania Broadband Development Authority, and had an especially important conversation about the future of the PJM grid, PA's energy exports, and renewable energy.
More than 80 Chamber leaders from across the Commonwealth met with state officials, including our own delegation. While the Senate was not in session, the event was attended by Representative Robert Leadbeter and newly-sworn-in Representative Michael Stender.
The event was packed with information, and on the 90-minute return drive, Taryn said this, "Before I joined the Chamber, I wasn't quite sure what to expect. Now I get it. We're into everything for our members. If they need it, we need to help them make connections. We engage at this level so that they get something by engaging with us."
I couldn't have said it better myself.
Friends, your membership gains you access to resources like these, and it means that whether you're aware of it or not, we're working to stay connected on your behalf. We need your help. We'd love to connect with you individually, and would love your input in Chamber committees, including Government Affairs, Ambassadors, New Ventures, and the Manufacturing Council.
For more information on how to get connected, contact us anytime at 570-784-2522, or email Taryn Crayton, at tcrayton@columbiamontourchamber.com.