State Chamber Releases 2023-2024 Budget and Session Priorities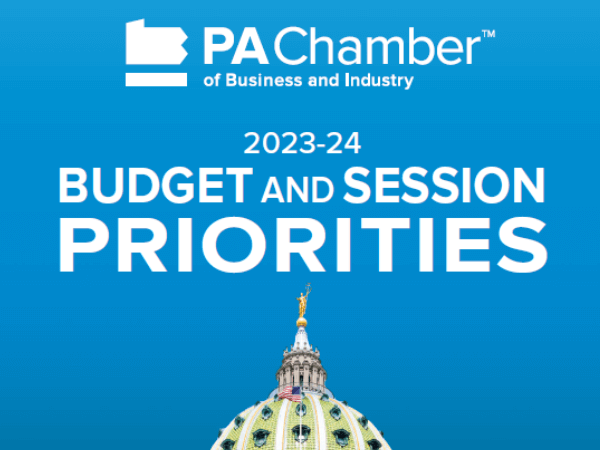 June 12, 2023
Harrisburg - The PA Chamber of Business & Industry released an outline of their 2023 Budget and Session Priorities to capitalize on Pennsylvania's enormous potential and make it the most competitive state in the nation for business.  What makes PA such a great place, according to the state Chamber?  From its prime location to its rich history, strong infrastructure, industrial diversity, business resources, world-class economic institutions, and hardworking people, the Keystone State "has it all".
The PA Chamber's policy priorities include tax reform, permitting reform, and workforce development such as:
Tax Reform
-Accelerate PA's corporate net income tax phasedown.
-End Pennsylvania's penalty on start-up businesses by removing or raising the cap on net operating losses.
-Improve the tax system for small businesses through accelerated sales tax, bonus depreciation, and net operating loss reform.
Permitting Reform
-Third party review of permits.
-Codify the Governor's One Stop Shop.
-Streamline permit appeals.
-Stop draining agency resources.
-Shot clocks and deemed approved.
Workforce Development
-Bridge the job skills gap.
-Address childcare challenges.
-Expand the workforce pool.
-Cultivate the next generation of skilled workers.
Check out the full document here, which outlines each of the policy positions and how they can help PA become more competitive.
On June 13, Chris Berleth, President of The Columbia Montour Chamber of Commerce, and Taryn Crayton, CMCC Director of Member Engagement, will meet in Harrisburg with Chamber and state officials to discuss policies impacting business in 2023-2024.