Submit Your Content for Business Matters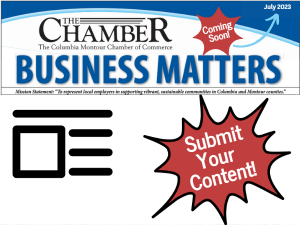 The Columbia Montour Chamber is pleased to continue its partnership with the Press Enterprise for Business Matters, a quarterly print tab publication distributed to the newspaper's online and print readership.  How does the partnership work?  Chamber members are invited to work directly with the Chamber to submit stories and member updates at no charge, and the Chamber will assemble that content.  The Press Enterprise handles the rest, offsetting distribution and printing costs with ads made my Chamber members.
June 28 is the deadline for content submissions ahead of the July 5th publication.
Don't miss the chance to advertise to this wide audience.
Submit content to the Chamber by emailing stories, pictures, and testimonials here.