55 Chambers Join Forces on Childcare Appeal
55 Chambers of Commerce from across the Commonwealth of Pennsylvania, including the Columbia Montour Chamber of Commerce, joined forces with the Pennsylvania Economic Development Association in an appeal to state officials regarding childcare this week.  In a letter dated May 30, the appeal, which was sent to Governor Josh Shapiro, department secretaries, and leaders in the House and Senate, was led by Chester County, Delaware County, and Westmoreland Chambers respectively,  asked legislators to take four key steps to make childcare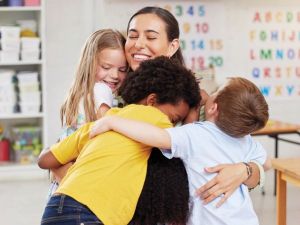 more accessible and affordable for workers, to assist in growing the workforce, and to reduce the more than $2.88 billion in losses to employers and $3.47 billion in losses to the Commonwealth.  Legislative action advocated by the coalition includes:
Employee Childcare Public Private Partnership - Legislation to create a tax credit for employers who furnish employee childcare in the amount of the employer's cost in furnishing employee childcare. Legislation to incentivize employers to fund childcare for their employees by splitting the cost with the state, and providing tax credit incentives to employers who participate.
Childcare Tax Credit for Parents – Expanding the Child and Dependent Care Enhancement Program. Last year's budget included funds for up to 30% of childcare-related expenses that filers claim on their federal return. This program is meant to support working families by lessening their tax liability. A total of $24.6 million went into the program for last FY and is now a permanent fixture of the state's tax code. However, expanding the program will allow more middle-income parents to return to the workforce is. $21,614 annually, an impact to all families of any income bracket.
Retention and Recruitment – Proposals potentially being considered during the current state budget negotiation to offer rebates/incentives for nursing, teaching and policing jobs should be extended to the childcare community. Hiring incentives would be a great first step to address the ongoing issue of low wages ($12.43/hour statewide average) currently paid to childcare workers being a disincentive to join this critical field.
Regulatory Reform – The Chamber Community is advocating that any future regulatory proposals must ensure proper stakeholder input from childcare providers with special consideration to infant care. In addition, any changes do not lead to increased costs for providers.
See the full list of signers below:
Kelly Goodman-Shaffer, Bedford County Chamber of Commerce
Joe Hurd, Blair County Chamber of Commerce
Jordan Grady, Butler County Chamber of Commerce
Amy Bradley, Cambria Regional Chamber of Commerce
Nicole Deary, Carlisle Area Chamber of Commerce
Tea Jay Aikey, Central PA Chamber of Commerce
Greg Scott, Chamber of Business and Industry of Centre County
Laura Manion, Chester County Chamber of Business and Industry
Courtney Herzing, Clarion Area Chamber of Business and Industry
Chris Berleth, Columbia Montour Chamber of Commerce
Jeff Emanuel, Foundation of the Columbia Montour Chamber of Commerce
Steven L Christian, Cumberland Valley Business Alliance (CVBA)
Trish McFarland, Delaware County Chamber of Commerce
Jonathan Wright, Downingtown-Thorndale Regional Chamber of Commerce
Lori L. Moran, East Liberty Quarter Chamber of Commerce
Wendy Klinghoffer, Eastern Montgomery County Chamber of Commerce
Laurie Ryan, Exton Region Chamber of Commerce
Briana Tomack, Greater Latrobe - Laurel Valley Regional Chamber of Commerce
Pamela Kelly, Greater Montgomery County Chamber of Commerce
Chellie Cameron, Greater Philadelphia Chamber of Commerce
Matt Smith, Greater Pittsburgh Chamber of Commerce
Michelle Mikitish, Greater Pittston Chamber of Commerce
Jim Gerlach, Greater Reading Chamber Alliance
Bob Durkin, Greater Scranton Chamber of Commerce
Katie L. Walker, Greater West Chester Chamber of Commerce
Lindsay Griffin-Boylan, Greater Wyoming Valley Chamber of Commerce & Chamber of Business & Industry
Mary Ann Severance, Great Valley Regional Chamber of Commerce
Melody Longstreth, Greene County Chamber of Commerce
Beth Black, Grove City Area Chamber of Commerce
Ryan Unger, Harrisburg Regional Chamber & CREDC
Yvonne Martin, Huntingdon County Chamber of Commerce
Mark Hilliard, Indiana County Chamber of Commerce
Rhonda Kelley, Juniata River Valley Chamber of Commerce
Heather Valudes, Lancaster County Chamber of Commerce
Karen Groh, Lebanon Valley Chamber of Commerce
Amy Beitel, Ligonier Valley Chamber of Commerce
Gina Grone, North Side/Shore Chamber of Commerce
Rosanne Barry Novotnak, Norwin Chamber of Commerce
Christine Grove, Oxford Area Chamber of Commerce
Steve McKnight, Pennsylvania Economic Development Association
Brian Schill, Peters Township Chamber of Commerce
Jessica Capistrant Remington, Phoenixville Regional Chamber of Commerce
Cheryl B. Kuhn, Southern Chester County Chamber of Commerce
Bernard Dagenais, The Main Line Chamber of Commerce
Robert S. Carl, Jr, The Schuylkill Chamber of Chamber
Eileen Dautrich, TriCounty Area Chamber of Commerce
Chris Ardinger, Tuscarora Area Chamber of Commerce
Leanne Engle, Upper Perkiomen Valley Chamber of Commerce
Susan Williams, Venango Area Chamber of Commerce
Dan DeBone, West Moreland County Chamber of Commerce
George Book Jr., West Shore Chamber of Commerce
Rachel Cathell, Western Chester County Chamber of Commerce
Gina Suydam, Wyoming County Chamber of Commerce
Kevin Schreiber, York County Economic Alliance