Member News – May 24, 2023
Montour Preserve Trails and Pavilions Reopened to Use
MARC is very pleased to report the Goose Woods Trail, Chilisuagi Trail, and Goose Cove #2 Pavilion are now reopened to use. As of May 18, only a portion of the Wildlife Management Trail remains closed to use while pipeline construction restoration work is completed. To see all that the Montour Preserve has to offer this Memorial Day weekend go to
https://montourpreserve.org/
.
Country Fresh Market and Hardware Store holds Grand Opening event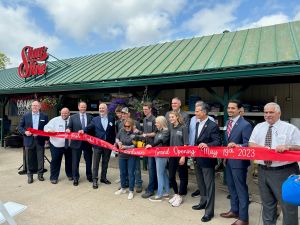 May 19th kicked off Country Fresh Market and Hardware Stores grand opening weekend.  Festivities included a lunch to support the VFW and food bank, games and giveaways.  Congressman Dan Mueser, Representative Robert Leadbeter, and Columbia County Commissioners David Kovach and Chris Young were on hand for a ribbon cutting that highlighted relationships between small businesses and community banks with the FHLBank Pittsburgh and First Columbia Bank & Trust Co. working together to support this family-run Benton business.
Sekisui Kydex Employee Sean Stabler Honored
Pennsylvania College of Technology honored Sean Stabler with a Distinguished Alumni Award at one of its Spring 2023 Commencement ceremonies, held May 12-13 at the Community Arts Center. Learn More here.
McKonly & Asbury has Internal Audit Recommendations
Learn from McKonly & Asbury about Managing the Internal Audit Function.  Considering the fact that there are four Principles and seventeen Standards, each with its own rigorous guidelines within this Domain, you can likely sense the importance placed upon the role of the Chief Audit Executive. Learn more here.
Sarah Smith Represents at 2023 Credit Union Ambassador Contest
Service 1st Federal Credit Union Member Service Representative, Sarah Smith, represented the Northwest Susquehanna Chapter of Credit Unions at the CrossState Credit Union Association's 2023 Credit Union Ambassador Contest held May 19th. Sarah was one of three finalists.  Congratulations Sarah!
BNI Iron Valley recently celebrated its 3rd Anniversary
Over the past 3 years, the members of BNI Iron Valley have passed over $943,000 in closed business and in the last 6 months, have passed 138 referrals.  BNI doesn't just help you grow your business, it gives you the tools you need to build your network, build your relationships, and sharpen your skills. Interested in learning more about how you can be part of this referral network, consider being a visitor. BNI Iron Valley meets every Wednesday from 7:00 a.m. - 8:30 a.m. Visit www.bnicentralpa.com or www.bni.com for more information.
Press Enterprise to hold "Best of the Best" Contest
Nominations for the Press Enterprise's "Best of the Best" contest opens on May 25th.  This contest is a community-voted contest recognizing exceptional local businesses. For more information on this contest reach out to the Press Enterprise at ana.rodriguez@pressenterprise.net.
2023 Covered Bridge Photo Contest Returns! - Experience Columbia -Montour Counties
Each year, the Visitors Bureau holds a photo contest to produce a 550-piece puzzle featuring one of the area-covered bridges. The 2023 Covered Bridge Photo Contest runs from Saturday, April 1st through Wednesday, May 31st at midnight EST. We're excited to see another fantastic set of entries from everyone! Click HERE to learn how to enter!
Glen Brook hosting Cruise-In
Join Glen Brook Rehabilitation and Healthcare Center on May 29th for an all-vehicle cruise-in.  Prizes will be awarded to the top 3 cars. For more details see their flyer here.
Workplace Safety Committee Certification Webinar
Introduce workplace safety committee members (management and employees) to the requirements of Act 34 for purposes of Workers' Compensation policy credits and cost reductions on May 31st with a webinar hosted by PATH. Register here.
Governor's Safety Award Nominations Open
Proud of your safety and prevention program?  Consider applying for the Governor's Award for Safety Excellence.  Nominations are due June 1.
2nd Annual Recovery Picnic to be Held in June
Susquehanna United Way's United in Recovery program will be hosting its 2nd Annual Recovery Picnic on June 15, 11:00 am - 1:30 PM at 163 Briar Creek Lake Park Road, Berwick, PA, 18603. RSVP to the event here.
Berwick Historical Society to Host Grand Opening
June 24th will see the grand opening of the David A Sadock House in Berwick.  Visit and tour the home of the Berwick Historical Society Library & Museum from 1:00 pm to 3:00 pm. Some of the areas and displays include the Prominent Citizens of Berwick, Berwick Business, Historic Homes, ACF Military Room, Fashions of Berwick, Berwick Schools, Genealogy, and Book Room.
IMC to host Webinar Series
The Innovative Manufacturers' Center will be hosting a free four-part webinar series about attracting and retaining employees. The series starts July 25th.  See full details.