Leverage Small Business Resources Year-Round
Sources: US Chamber of Commerce, Columbia Montour Chamber of Commerce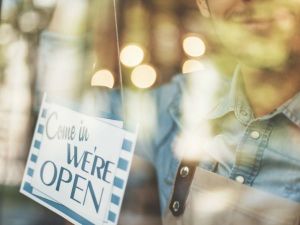 Many organizations provide support and online tools for small business owners and employees. Take advantage of these free resources during Small Business Month and throughout the year.  Trying to keep costs down? There are plenty of free business resources online...and plenty more that are just around the corner.
Successful entrepreneurs never stop learning about their industry, business, and customers. They look for ongoing training opportunities for themselves and their staff. Free resources for small business owners help you break into the global marketplace, assess economic growth, and identify new business opportunities.  Celebrate Small Business Month and improve your company year-round using small business resources and online tools to reach your goals. Each of the following organizations and websites provides actionable information requiring just a few clicks.
1. U.S. Small Business Administration (SBA) and Local SBDCs
Learn how to start, grow, or sell your business using the SBA's free resources. The SBA offers informative content, interactive online tools, and a video library for entrepreneurs. These range from business planning solutions to mentoring services.
You can explore export assistance programs and financial resources. Both help grow businesses and enable entrepreneurs to strengthen their market position. Or learn how to qualify for government contracts, get funding for your company, and explore business certifications.
Check out these SBA tools and content:
2. WedNET
Created by the PA Department of Community & Economic Development and made available through the Workforce and Economic Development Network of Pennsylvania, the WEDnetPA program provides qualified employers training funds for new and existing employees.  WEDnetPA is a unique, collaborative partnership of community colleges, state system universities and other educational institutions working together to be responsive to the needs of Pennsylvania's business community.  Better yet?  Our local WEDnetPA Partner is none other than Commonwealth University - Bloomsburg Campus, and the program that the Chamber partners with the university to deliver, the Management & Leadership Certificate program, is an approved program!  Contact Jennifer Williams for more information on WEDnetPA funding and stay tuned here for more about the next Management & Leadership Cohort (Fall 2023)!
3. HubSpot
HubSpot is a cloud-based customer relationship management (CRM) tool offering free and paid courses. It also provides the HubSpot Academy for ongoing education geared toward your entire team, including leaders, department supervisors, and employees. There are dozens of programs, including free online courses and longer certification sessions, and you can display earned badges on websites and company bios.
Achieve certifications through business courses, such as:
Digital marketing.
Inbound sales.
Growth-driven graphic design.
Content marketing.
Digital advertising.
Sales management.
Email marketing.
Also, check out HubSpot's Website Grader. Enter your company's website and email address and click "get your score." HubSpot grades your site based on performance, search engine optimization (SEO), mobile, and security. It also provides a list of recommendations for site improvements.
4. Service Corps of Retired Executives (SCORE)
SCORE provides many great resources for small business owners, including webinars, interactive courses, business templates, and local workshops. SCORE partnered with Google and the International Downtown Association (IDA) to develop a free digital readiness series. Each module provides digital tools, webinars, and videos on how to grow your business with Google.
Recently, SCORE added The Startup Roadmap. It's an excellent guide for individuals wanting to start a company. An entrepreneur can complete the step-by-step tutorial alone or with a mentor. It has 12 modules, which you can complete in any order. Each module offers actionable steps, free resources, and other online tools to complete the steps.
You can find SCORE events and workshops near you by entering your state or zip code and filtering the results according to business stage, topic, and format. SCORE also offers mentorship opportunities to any citizen or permanent resident who owns a business or wants to start one. The interactions happen virtually so that you can communicate with your mentor via email, phone, and video.
5. The Columbia Montour Chamber of Commerce (Your existing member benefits)
You've invested in membership, but are you aware of all of the benefits that go with it?  These benefits are constantly improving and changing, and we want to help you make the most of them.  Whether that's connecting you with members, community partners, local governments, helping you find answers to questions, or advocating on your behalf, your Chamber exists to represent your business in building vibrant and sustainable communities.  You have access to Chamber committees, ribbon cutting and celebration resources, marketing efforts, communications, events, and so much more.
There's barely enough space to write about our partnerships with MyBenefit Advisor (more below), energy consultants at World Kinect Energy, the dividend-paying Chamber program with Penn National Business Insurance,
Through the Chamber, you also get the benefits of our relationships with state and national partners - the PA Chamber of Business & Industry and the U.S. Chamber of Commerce, which host resources like the U.S. Chamber of Commerce Small Business page and its Small Business Weekly Forecast.   You can also view videos, forums and interviews with experts, business leaders, and officials on the U.S. Chamber's Chamber OnDemand platform or expand your small business knowledge on CO, which delivers fact-based articles on best practices for how to start, grow, and run your company.
6. LinkedIn
LinkedIn is a professional-focused social media platform used by entrepreneurs globally. You can showcase your company and build relationships with business customers and future employees. It's also a key spot to highlight your expertise as an entrepreneur in your personal profile. Get started with LinkedIn's Action Plan for Small Businesses. It's a five-page guide to completing your page, growing your follower count, and posting the right content.
But don't stop there! LinkedIn has a small business resource center packed with free content. It offers virtual events, free online courses, and livestreams. The virtual sessions are geared toward entrepreneurs at all levels, including managers and leaders, talent acquisition professionals, remote workers, and sales teams. We recommend Boost Your Business With LinkedIn for existing businesses, as it's a video guide to using LinkedIn for branding, lead generation, and hiring.
7. Constant Contact
Constant Contact is an online marketing platform tailored to small businesses. It offers various free tools and other resources for small businesses. Topics include email, social media, SMS texting, online stores, and websites. Constant Contact also provides educational webinars, seminars, and local events year-round.
This platform can help your team members level up their skills while improving operations. It includes small business resources for digital marketing tailored to your skill level—just starting out, up and running, or advanced marketer.
8. HR.com and MyBenefit Advisor
Manage human resources effectively with a free membership and resources from HR.com. It has e-learning lessons, webcasts, and virtual events. You can learn about upcoming changes to regulations and help your HR employees achieve Professional in Human Resources (PHR) and Senior Professional in Human Resources (SPHR) certifications.
Free resources for small businesses consist of:
HR compliance posters.
Industry trends and research papers.
HR certification prep courses.
More than 5,000 educational webcasts.
Recertification credits.
HR forms, templates, and tools.
Publications in more than 13 verticals.
Looking for more HR tools and a live person to talk to?  Look no further than the Chamber's MyBenefit Advisor partnership for even more quality resources.
9. Networking Groups
Networking groups for entrepreneurs like BNI Central PA, One Million Cups Susquehanna Valley and industry specific groups like IMC (Innovative Manufacturers Council) can help you make meaningful local connections.  Don't forget the Chamber's monthly Business After Hours too...events that are free to attend for members and non-members alike.  In case you haven't heard, we've got these special monthly events scheduled 10 months out now!
10. Google
A Google Business Profile, formerly Google My Business, can drive customers to your brick-and-mortar storefront and online platform. It also offers many free tools for entrepreneurs and small teams, including Google Workspace and Google Drive. The Google for Small Business page provides a wealth of information for small business owners, helping you navigate SEO, advertising, and marketing.
Course topics include:
Getting your business online.
Standing out on Search and Maps.
Understanding SEO.
Gathering insights.
Starting an online store.
Using email marketing.
Advertising online.
The small business lesson collection helps you research your market, develop a business plan, and prepare to request funding. Also, check out the Grow with Google small business showcase on YouTube. It offers more than 250 videos covering topics like project management and data analytics.
LinkedIn has a small business resource center packed with free content. It offers virtual events, free online courses, and livestreams.
11. MIT Open Learning Library
Expand into a new industry and explore diverse courses through the MIT Open Learning Library. These self-paced lessons are free to download. Most courses include interactive content and exercises, which provide immediate feedback. These sessions are a great free resource for businesses wanting to offer professional development options for employees.
The topics include:
Aeronautics and astronautics.
Biology.
Comparative media studies and writing.
Earth, atmospheric, and planetary sciences.
Electrical engineering and computer science.
Global languages.
Linguistics and philosophy.
Management.
Materials science and engineering.
Mathematics.
Nuclear sciences and engineering.
Physics.
Urban studies and planning.
Harvard-MIT program in health sciences and technology (HST).
12. FDIC: Money Smart for Small Business
Boost your financial literacy with 13 modules for starting and managing a business. The materials and instructor-led curriculum were developed jointly by the Small Business Administration and Federal Deposit Insurance Corporation (FDIC). You can download financial resources at Money Smart – Teach – For Small Business.
The lessons consist of:
"Is Owning a Business a Good Fit for You?"
"Planning for a Healthy Business"
"Banking Services Available for a Small Business"
13. National Federation of Independent Businesses (NFIB)
NFIB has many free guides and online presentations. It offers additional resources for members. We recommend checking out NFIB's research, webinars, Small Business Rundown podcast, and legal channels. A recent podcast discusses the health insurance affordability crisis, while webinars cover HR, marketing, tax, legal, and credit and finance.
14. National Retail Federation (NRF)
NRF is a must-visit site if you're a retail business. It provides tons of research for planning upcoming campaigns and making seasonal financial projections. NRF is the world's largest retail trade association and completes studies throughout the year, including sections for various holidays where you can compare consumer shopping figures from the past several years.
We suggest using NRF's research to inform your campaigns and strategies. Two of the latest reports are the NRF 2023 Sales Forecast and the NRF State of Retail & the Consumer.
15. IRS Small Business and Self-Employed Tax Center
Get answers to your small business tax questions at the IRS Small Business and Self-Employed Tax Center. It provides free resources for taxpayers who file Form 1040 or 1040-SR and small companies with assets under $10 million.
Access information for:
Preparing your taxes.
Filing and paying taxes.
Stages of owning a business.
General topics.
Online learning.
We're going to keep publishing information like this to keep you informed, because as far as resources go, this quick list is really only scratching the surface.  We haven't even started referencing the local university resources, non-profit opportunities, grants, or community partners like DRIVE (economic development) and Advance Central PA and the PA CareerLink.  Stay tuned!  Still don't have what you need?  Call Brenda Flanagan, Administrative Assistant at the Columbia Montour Chamber, and we'll be happy to brainstorm additional ways to get you and your organization the resources you need to be successful.  570-784-2522.