Member News – May 10, 2023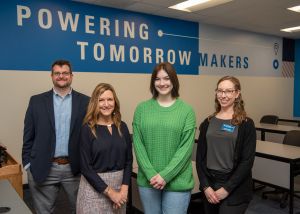 PPL Donation Supports Hands-on Technology Education
PPL Electric Utilities is donating $8,000 to assist area high school students taking college-credit courses at Pennsylvania College of Technology.
Through the Educational Improvement Tax Credit Program, PPL Electric is boosting Penn College Dual Enrollment, which enables academically qualified high school and career and technology education center students to take courses tuition-free during their regular school day. See Full Press Release.
Future Leaders in STEM Event - May 20
The Bloomsburg Children's Museum, The Foundation of The Columbia Montour Chamber of Commerce, The Bloomsburg YMCA, and the Teen Center are working together to bring TEDx-style talks, vendors, activities, and workshops. The event is free but registration is required.  Register here.
Glen Brook Rehab to Host Open House
Tomorrow, May 11th from 3:00 - 6:00 pm, Glen Brook Rehab is celebrating its newly renovated sub-acute rooms. See their Open House Flyer 5.11
DBA Continues Downtown Fun
If you missed the 37th Annual Spring Fling in Danville on May 6th, you can catch up on the fun at the Danville Business Alliance's Third Thursdays this summer. May 18th kicks off this series of events with Bason's Coffee, Troop 47 Trading Co, and many other businesses open late.  Check out all event details here.
Press Enterprise to hold "Best of the Best" Contest
Nominations for the Press Enterprise's "Best of the Best" contest opens on May 25th.  This contest is a community-voted contest recognizing exceptional local businesses. For more information on this contest reach out to the Press Enterprise at ana.rodriguez@pressenterprise.net.
First Keystone Community Bank Vice-President Wins National Banking Scholarship
Natalie Stackhouse, MBA Controller/Vice President at First Keystone Community Bank was one of 2 scholarship winners of the Owen Scholarship for Emerging Community Bank Leaders.  See more details about the scholarship here.
2023 Covered Bridge Photo Contest Returns! - Experience Columbia -Montour Counties
Each year, the Visitors Bureau holds a photo contest to produce a 550-piece puzzle featuring one of the area-covered bridges. The 2023 Covered Bridge Photo Contest runs from Saturday, April 1st through Wednesday, May 31st at midnight EST. We're excited to see another fantastic set of entries from everyone! Click HERE to learn how to enter!
PATHS Training May Webinars
The Bureau of Workers' Compensation, Health & Safety, will be offering numerous FREE safety webinars in May 2023. To access the PATHS Training Calendar visit www.dli.pa.gov/paths 
First Commonwealth Bank Offering Virtual Seminar
Do you have customers that have questions about Buying a New Home?  First Commonwealth Bank is offering a virtual seminar  Thursday, May 18, 2023, 7:00 p.m. - 8:00 p.m. Hosted by Jeff Woodward, FCB Senior Mortgage Loan Originator Feel free to join or alert your clients. To RSVP, please visit here: Home Buyer Seminars | First Commonwealth Bank (fcbanking.com)
OSHA - National Beat the Heat Contest
OSHA is sponsoring a "Beat the Heat Contest" to raise awareness about the hazards of heat exposure in indoor and outdoor workplaces and identify how businesses across the nation control these hazards. Participants are asked to submit an awareness tool (e.g., infographic, poster, training curriculum, webpage, logo, etc.,) to increase heat hazard recognition among employers and workers.
To enter the contest and get more details go here.  The contest is open now through June 9, 2023.
2nd Annual Recovery Picnic to be Held in June
Susquehanna United Way's United in Recovery program will be hosting its 2nd Annual Recovery Picnic on June 15, 11:00 am - 1:30 PM at 163 Briar Creek Lake Park Road, Berwick, PA, 18603. RSVP to the event here.
IMC to host Webinar Series
The Innovative Manufacturers' Center will be hosting a free four-part webinar series about attracting and retaining employees. The series starts July 25th.  See full details.