Celebrate National Small Business Week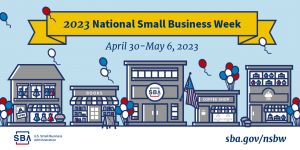 In honor of National Small Business Week, The Columbia Montour Chamber is celebrating our members and continuing our efforts to provide local businesses the access they need to critical resources. As you celebrate your small business this week, don't forget that your membership entitles you to access to the Chamber's low-interest loan program, benefits consulting with My Benefit Advisor, a cost-reducing commercial and residential energy program with World Kinect Energy, and the dozens of networking and employee development programs developed throughout the year.  Be sure to check out our website for all of these opportunities.
Our friends and partners at the Small Business Development Centers also have programs and grants which can help you to grow your business.  Here are just a few:
May 4th - Business Startup Basics for Central PA - Register here.
May 10th - 1 Million Cups (1MC) Susquehanna Valley engages & empowers entrepreneurs - with conversation & coffee - at monthly events throughout the Susquehanna Valley. Register Here
May 18 - Strategies for Creating Your Marketing Identity - Register Here
Grants & Loans Available to Small Businesses
Value Added Producer Grant Program - helps agricultural producers generate new products, create and expand marketing opportunities, and increase income. Here are a few examples of farms and food product companies recently receiving grants of up to $250,000. (Due 5/11/2023)
DEP Agriculture Energy Efficiency Rebate - Farmers who are commercial agriculture producers are eligible to apply for rebates for energy efficiency projects such as LED lighting and variable frequency drives for milk vacuum pumps or ventilation fans . (Due 6/3023)
Economic Injury Disaster Loans - are available throughout the Bucknell SBDC's service region for agricultural cooperatives and small businesses engaged in aquaculture affected by drought from June 10 through August 31, 2022. (Due 8/21/23)
Creative Entrepreneur Accelerator Program - provides up to $2,000 grants to PA-based creative entrepreneurs, prioritizing individuals who identify as Black, Indigenous, or persons of color, and those located in and whose work benefits low-income communities. (Ongoing)
Global Access Program Grant - reimburses businesses up to 75% of qualifying expenses for specific export promotion activities. Businesses can receive a maximum award of $10,000 per grant, and up to two awards per award period. (Ongoing)