Member News – April 12, 2023
Geisinger Officials Named to 2023 Health Care Power 100
Geisinger's President and CEO, Dr. Jaewon Ryu, and Dr. Julie Byerley, President and Dean of Geisinger Commonwealth School of Medicine, have been named to City & State's 2023 Health Care Power 100. Dr. Ryu was recognized for his leadership in earning Comprehensive Heart Attack Center certification for three Geisinger hospitals, while Dr. Byerley was applauded for her work in expanding educational programs to meet the rising demand for care in our communities. Congratulations to both Dr. Ryu and Dr. Byerley!
North Shore Railroad Founder Inducted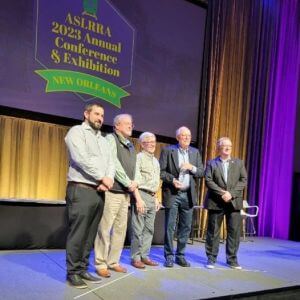 Congratulations to Dick Robey, founder of North Shore Railroad for being inducted into The American Short Line and Regional Railroad Associations Hall of Fame
EITC- Free Seminar
Educational Improvement Tax Credit Program Thursday April 27, 9:00 - 10:00 am. Join Zoom Meeting https://lnkd.in/ef4VribM Meeting ID: 890 6545 7004 Passcode: 806240
Community Health Needs Assessment
To gain a better understanding of health needs across the region, Geisinger, Allied Services, and Evangelical Community Hospital are again collaborating to conduct a Community Health Needs Assessment (CHNA) of northeastern and central PA counties. Complete the survey by April 24th, here.
Community Giving Foundation Nonprofit Leadership Series
The Nonprofit Leadership Series provides free professional development opportunities to area nonprofit leaders. The session will be offered on Wednesday, April 26th at the Montour County Admin Center in Danville. The deadline to register for the workshop is April 19th. Learn more at csgiving.org/nonprofit-leadership-series.
Keystone Pest Celebrating 22 Years in Business
Congratulations to Keystone Pest Management! They will be celebrating 22 years in business on April 15th!
Town of Bloomsburg:
Seeks Artists for Town Hall Murals

The

Town of Bloomsburg

seeks artists interested in submitting sketches for potential murals on the low walls outside

Town Hall

facing East 2nd Street/College Hill. The Town does not at this time have any funds identified to pay the artist(s); however, they are open to seeking grant funds and/or covering the cost of the paint/materials. Once the sketches come in, the Planning Commission will forward their recommendations to Town Council to discuss the details of completing the project. The Planning Commission will meet on April 20th to discuss the submitted sketches.  You may submit your ideas to Lisa Dooley, Town Manager, at ldooley@bloomsburgpa.org and to Kyle Bauman, Code Enforcement Officer, at kbauman@bloomsburgpa.org.

An Independence Day Celebration has been announced for July 4th at Town Park. For more information visit bloomsburgpa.org.
Bloomsburg Children's Museum April Events
The Children's Museum has a full calendar of events in April, including this partnership with the YMCA for Healthy Kids Day:
Bloomsburg Mini Maker Faire
Saturday, April 22nd
10-4:00 p.m.
The Bloomsburg Mini Maker Faire® is a FREE Bloomsburg Children's Museum organized event hosted on Saturday, April 22nd. This one-day, family-friendly event celebrates arts, crafts, engineering, food, music, science and technology projects, and the Do-It-Yourself (DIY) mindset. It's for resourceful, creative people who like to tinker and love to make things. Craftsmen, artisans, performers, homesteaders, crafters, inventors, thinkers, and doers are welcome to apply to be Makers. The Faire will showcase cutting-edge technology such as 3D printing and robotics but also have more traditional trades such as woodworking, fine arts, and sewing crafts.
LPN Open House April 20
Join the CSIU at the 2023 Central Susquehanna LPN Career Center (CSLPNCC) Open House. Tour the new, state-of-the-art facility, meet the faculty, and see why the CSLPNCC is the premier school in the region for licensed practical nursing education. Staff will be available to answer questions about financial aid and walk you through the application process. See the flyer.
Bloomsburg YMCA Community Events
On April 22, join the Bloomsburg YMCA and the Bloomsburg Children's Museum Mini Maker Faire for the annual Healthy Kids Day.  Check out the flyer.
McKonly & Asbury Webinar and Seminar:
SOC versus SOX

Join Elaine Nissley and Lynnanne Bocchio to better understand the differences between Service Organization Controls Reports (SOC) and Sarbanes-Oxley Act of 2002 SEC requirements. Webinar is April 27th at 2:00 pm. Register to attend.

Business Transition Planning - What is Your Plan?

Join McKonly & Asbury for this free seminar at Bloomsburg University's Monty's Hall, 400 East Second Street, Bloomsburg.  Time: 8:00 AM to 9:30 AM, May 2, 2023.  The presentation will discuss the impacts of transitioning a business.  Register to attend.
2023 Covered Bridge Photo Contest Returns! - Experience Columbia -Montour Counties
Each year, the Visitors Bureau holds a photo contest to produce a 550-piece puzzle featuring one of the area covered bridges. The 2023 Covered Bridge Photo Contest runs from Saturday, April 1st through Wednesday, May 31st at midnight EST. We're excited to see another fantastic set of entries from everyone! Click HERE to learn how to enter!