Chamber Welcomes Director of Member Engagement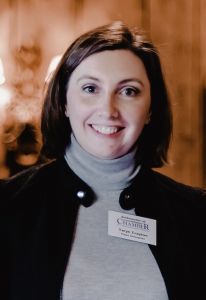 The Columbia Montour Chamber is pleased to welcome Taryn Crayton to the staff to fill the role of Director of Member Engagement.  In this role, Taryn will provide leadership in delivering a high return on investment to members by serving as the driving force in forging member connections and executing and enhancing the organization's events, communications, and programs. In addition to her work with the Chamber, Taryn will also spend a portion of her time coordinating programs, events, and communications for the Chamber's Foundation, including but not limited to Leadership Central Penn, the organization's 31-year-old community leadership program.
Taryn is no stranger to community organizations, having begun her professional career at the Lehigh Valley Economic Development Corporation.  She holds a B.A. in Communications from Eastern University and is a 2022 graduate of Leadership Central Penn, and has also worked for several small businesses.  Most recently, Taryn worked for five years as an Advertising and Printing Sales representative with the Press Enterprise. She is also involved in the community and serves with the Bloomsburg Rotary and on the Board of Directors for Bloomsburg Children's Museum.  In 2022, she served as a Chamber Ambassador.
"We're so excited to have Taryn on our team," said Chamber President Chris Berleth.  "She comes to us with a wealth of community knowledge, she's widely regarded for her professionalism and leadership, and her love for our region will be a huge asset as we work to meet the Chamber's mission. She's going to be a wonderful resource for our members and community stakeholders."
Taryn is a dance teacher with Danceworks by Amber in Bloomsburg, and translated her passion for dance into studio ownership, as she is the owner/director of Remade by Dance in Barnesville.  Taryn and her husband Derek live in Berwick with their dog Millie.
Please join us in welcoming Taryn to the Chamber.  She can be reached at tcrayton@columbiamontourchamber.com.