PA Chamber & PA State Building & Construction Trades Council Join Forces in Calling for Permitting Reform
Source: PA Chamber of Business & Industry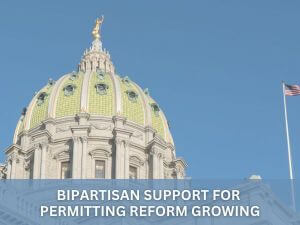 In case you missed it… The heads of Pennsylvania's leading business organization and building trades union penned a joint op-ed published by the Reading Eagle calling on state lawmakers to enact permitting reforms that will benefit businesses, employees, and communities.
"Business and labor agreeing? This has been a rare sight over the years," Pennsylvania Chamber of Business and Industry President and CEO Luke Bernstein and Pennsylvania State Building & Construction Trades Council President Rob Bair wrote. "Today, it is a realization that by working together, we can create greater opportunities for every Pennsylvanian and make our state stronger."
Permitting reform – or improving the process by which construction and other development projects obtain approvals from government agencies – has been gaining bipartisan support this year as lawmakers from Democratic Gov. Josh Shapiro to the Republican-led Senate have agreed that the current process is broken.
Bernstein and Bair outline several bipartisan steps lawmakers should take to streamline the state's permitting process, including having permits be "deemed approved" if an agency fails to meet a required deadline; allowing for qualified third-party reviewers of permit applications; providing certainty to state agencies that their decisions will stand up in court; limiting attorney's fees to combat frivolous lawsuits; and adding transparency to the process by allowing applicants to see the exact status of their applications.
You can read the full op-ed on the Pennsylvania Chamber website.
The op-ed is the latest of several steps the Pennsylvania Chamber has recently taken to promote permitting reform.
In February, Bernstein published an op-ed explaining how permitting reform will make Pennsylvania competitive on the national and world stage.
Last week, Pennsylvania Chamber Director of Government Affairs Kevin Sunday testified at a House Republican Policy Committee hearing, highlighting investments Pennsylvania lost in recent years due to a dysfunctional state permitting process. The Chamber's testimony identified a comprehensive solution to the permitting process that addresses state agency resources, permit deadlines, and reforms to the permit appeals process.
On Monday, the Pennsylvania Chamber joined the national "Permit America to Build" coalition and sent a letter to Congress urging federal lawmakers to enact legislation that will modernize permitting processes.