Member News – March 29, 2023
Service 1st and Warrior Run High School Host Financial Reality Fair
Service 1st Federal Credit Union recently partnered with Warrior Run High School to host a Financial Reality Fair. Over 220 juniors and seniors took part in the mock budget experience.
The Financial Reality Fair is designed to place students in real-life situations where they select a career, are provided with an entry level salary and challenged to make decisions while remaining within budget. Students are required to visit booths at the Fair and purchase necessities, such as housing, clothing, food and transportation. As in real life, non-essential options are also presented, such as entertainment, internet and cell phones. Before leaving the Fair, students must spin the "reality wheel" and meet with financial counselors from Service 1st to review their decisions.
For more information or to schedule a Financial Reality Fair, visit www.service1.org or call 800.562.6049.
Hand in Hand Family Resource Center Offering Free Screening of "The R Word"
Join Hand in Hand FRC on March 30 from 6:30 pm to 8:00 pm as they screen "The R Word", a film that investigates the long-reaching history and lasting implications of the word "retard(ed)" and the attitudes and perceptions about people with intellectual and developmental disabilities.  The screening will take place at the Kuster Auditorium, Hartline Science Center at Bloomsburg University.
Bloomsburg Area YMCA Receives $7,000 from Clark Foundation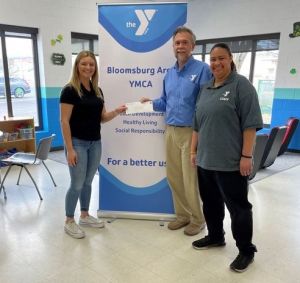 Congratulations to the Bloomsburg Area YMCA, which recently received generous support from the Clark Associates Charitable Foundation, the charitable arm of Clark Associates/Webstaurant Store. The funds were used to purchase a commercial refrigerator and freezer to support the food service program at the YMCA.  The Bloomsburg YMCA serves free breakfast and snacks to the daycare program and this summer will also be providing free lunch to the summer day camp and kiddie camp programs.
Central Susquehanna What's So Cool About Manufacturing? Contest Needs Your Votes
The contest, produced by the Innovative Manufacturers' Center, The Central Susquehanna Intermediate Unit and The Foundation of the Columbia Montour Chamber features schools from across the region, including, from Columbia and Montour Counties: Bloomsburg Area Middle School, Central Columbia Middle School, Berwick Area Middle School, Southern Columbia Middle School, Millville Area Junior-Senior High School, and Danville Middle School.  Teams from each school explore manufacturing careers and produce video profiles of companies in the region.  Judges bestow a variety of awards, but they need your vote for the Viewers Choice Award.  Vote here.
Helping Your Home Recover from Winter
Winter is rough on homes.  Did yours withstand the season well?  Check out this blog post from Zimmer Insurance Agency.
Turkey Hill Brewing Company Welcomes Live Music
Jung Bergo returns to Turkey Hill Brewing Co. on March 30.
SEDA-COG Welcomes Two New Employees
Tanya Collins and Tonia Troup were recently hired at SEDA-COG to serve as Project Coordinators in the Community Development Department.  Congratulations!
Town of Bloomsburg Seeks Artists for Town Hall Murals
The
Town of Bloomsburg
seeks artists interested in submitting sketches for potential murals on the low walls outside
Town Hall
facing East 2nd Street/College Hill.
The Town does not at this time have any funds identified to pay the artist(s); however, they are open to seeking grant funds and/or covering the cost of the paint/materials.
Once the sketches come in, the Planning Commission will forward their recommendations to Town Council to discuss the details of completing the project. The Planning Commission will meet on April 20th to discuss the submitted sketches. 
You may submit your ideas to Lisa Dooley, Town Manager, at ldooley@bloomsburgpa.org and to Kyle Bauman, Code Enforcement Officer, at kbauman@bloomsburgpa.org.
Bloomsburg YMCA Community Events
Join the YMCA for their Annual Easter Egg Hunt on April 1 from 1 pm to 3 pm in their green space.  Rain date: April 2, 11 am to 1 pm.  Check out the flyer.
On April 22, join the Bloomsburg YMCA and the Bloomsburg Children's Museum Mini Maker Faire for the annual Healthy Kids Day.  Check out the flyer.
Glen Brook Rehabilitation and Healthcare Center Easter Egg Hunt
You're invited to the 2nd Annual Community Easter Egg Hunt at Glen Brook Rehabilitation and Healthcare Center on Sunday, April 2, 2023 at 12pm, at 801 E. 16th St. Berwick, PA 18604, on the Building 2 lawn.  With questions, contact Maria Fazio at (570) 204-8308 or mfazio@glenbrookrhc.com.  See the flyer!
Innovative Manufacturer's Center (IMC) Events
IMC will host two free events in April.  Contact Lauri Moon, IMC Outreach & Special Projects Manager, with questions.
April 6, 9:00 AM - 10:00 AM - webinar called "Developing Your Workforce with Online Training & Certification"
April 11, 8:00 AM - 12:00 PM - "Electrical Safety Training for General Industry", to be held in person at Northway Industries in Middleburg, PA.
Bring Clarity to Chaos: How to Have the End-of-Life Conversation
Join Steinbacher, Goodall & Yurchak as they discuss the importance of communicating final wishes to loved ones.  Event to take place at Elder Care & Special Needs Resource Center, Williamsport.  Register here. 
Bloomsburg Theatre Ensemble Announces Auditions for this Summer's 'Dragons Love Tacos'
BTE announced an audition date for this summer's 'Dragons Love Tacos.' Auditions for children and teens ages 8 to 18 will be held on April 15th at the Alvina Krause Theatre, 226 Center Street, Bloomsburg. The doors will open at 9:30 am, and auditions begin at 10:00 am.  Read the full release.
McKonly & Asbury Seminar: Business Transition Planning - What is Your Plan?
Join McKonly & Asbury for this free seminar at Bloomsburg University's Monty's Hall, 400 East Second Street, Bloomsburg.  Time: 8:00 AM to 9:30 AM, May 2, 2023.  The presentation will discuss the impacts of transitioning a business.  Register to attend.
Zartman Construction Celebrating 50 Years of Construction Excellence
Zartman Construction invites you to join in celebrating their 50-year milestone with an Open House on May 3rd from 4:30 p.m. to 8 p.m. Please tour our facility and meet with our staff while enjoying hors d'oeuvres and refreshments.  Learn more about the history of Zartman Construction here.