SENATE DEP BUDGET HEARING FOCUSES ON PERMIT REFORM, RGGI
Source: PA Chamber of Business & Industry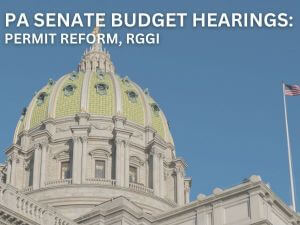 Two issues of chief importance to the employer community – permitting reform and Pennsylvania's participation in the Regional Greenhouse Gas Initiative – were the focus of last week's Senate budget hearing with the Department of Environmental Protection.
The governor is requesting a funding increase for DEP next year for additional air and water permitting staff. The governor's budget also requests funding to expand operations at the Governor's Office of Transformation and Opportunity, which includes the one-stop shop for key development projects to efficiently obtain state permits.
The governor has stated that the permitting process takes too long and he is charging agencies to define by May 1 expected response times for all permits, after which applicants would be eligible for a "money back guarantee" if a decision is not made by then. The governor is also seeking increased funding for DEP and DCNR to hire more permitting staff as well as to develop modeling for carbon capture and sequestration in support of securing federal funding for a hydrogen hub in the state.
Senate Appropriations Chairman Scott Martin, R-Lancaster, said DEP is critical to turning Pennsylvania's economic story around and permitting is a key element of that. He would like to see a system that is efficient, consistent and has accountability.
DEP Acting Secretary Richard Negrin and his staff spoke to the agency's 10-point plan to improve permit response times. This includes a pre-application meeting before an application is submitted, and encouraging engineers and scientists who are involved with a project to attend those meetings. Negrin added that he's creating a Center of Environmental Excellence to work on bringing practices in the private sector to DEP to improve permitting. He also acknowledged that it will take more than one budget year to tackle the environmental issues facing the state. "We are not going to fix it in one budget," he told committee members.
In terms of RGGI, Senators Gene Yaw, R-Lycoming, and Kristin Phillips-Hill, R-York, asked a number of questions and Chairman Martin said he is hopeful a new workgroup will explore alternatives. The budget proposal earmarks 17 new positions supported by the Clean Air Fund to oversee RGGI's emissions cap and trade program and implement air pollution reductions, provided the initiative moves forward. Negrin said the agency was not there to defend RGGI or speak out against it. "It's the beginning of the process for us," he said.
Negrin also spoke about plugging abandoned oil and gas wells, saying that the federal Infrastructure Investment and Jobs Act has dedicated $250 million over the next 15 years. "Heavy equipment operators, truck drivers, professional engineers, and many others are part of these projects, taking home paychecks for restoring our Commonwealth," he said, adding that reclaimed land will benefit businesses and tourism as well.
###
Founded in 1916, the Pennsylvania Chamber of Business and Industry is the state's largest broad-based business association, with its membership comprising businesses of all sizes and across all industry sectors. The PA Chamber is The Statewide Voice of BusinessTM.