Department of Health Gauging Business Interest in Free Air Filtration Devices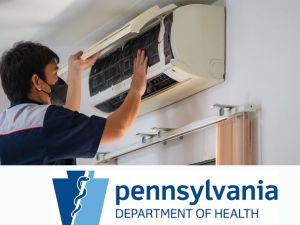 The Pennsylvania Department of Health is currently developing an environmental health project that may be of interest to your business.  In this project, the DOH is evaluating devices that can eliminate viruses, bacteria, mold, and other pathogens from air and surfaces simultaneously. The devices could be stand-alone or wall mounted, use a standard outlet for power, and come with two years of supplies that may be needed to run the device. If funding for the project is approved, the department would purchase and distribute the devices free of charge to small businesses, non-profit entities, and other facilities throughout the commonwealth that meet designated criteria to mitigate the spread of COVID-19, flu, and other diseases.
To gauge the interest of businesses that could receive such a device, the DOH is utilizing the following application.  Those who complete the application are not guaranteed a device; however, the application must be accurately completed in order to be considered when and if funding becomes available. At that point, the Department would reach out to the businesses and facilities chosen to receive devices to confirm delivery details and provide an approval notice. Devices will be awarded based on the amount of funding available and on a first-come, first-serve basis. The department may also consider factors such as foot traffic versus square footage, and COVID-19 risk in the community served, with priority given to underserved communities.
For additional information, contact Jami Nejedly, Regional Field Manager, PA Department of Health