Member News – February 15, 2023
Columbia County Placemaking Initiative Requests Your Input
Over the next several months, the Columbia County Placemaking Initiative will create and implement a county-wide placemaking plan that makes Columbia County an even better place to live, work, play and learn.  The information gathered through this survey will inform the plan.  It takes 15 minutes, and all responses are anonymous.  Residents, businesses, and community leaders are strongly encouraged to participate!  Complete the survey here.
This project is funded through the U.S. Dept. of Agriculture Rural Placemaking Innovation Challenge.
Save the Date: Encina Plans Community Engagement Opportunity March 1
Encina will be holding a telephone event for those interested in learning more about The Point Township Circular Manufacturing Facility.  This phone event will take place on Wednesday, March 1, 2023 from 6:30 p.m. to 8:00 p.m.  Additional details on how to participate are forthcoming.
SERVPRO Urges Bloomsburg Property Owners to Focus on Disaster Readiness as Spring Approaches
Property damage remediation specialist says the importance of advance planning grows as severe weather and climate events become more frequent. Read more.
IMC Bringing No-Cost Electrical Safety Training for General Industry to Central PA
in partnership with The Manufacturer's Association, this training is now available at no cost thanks to an OSHA grant.  Open enrollment will be offered, and companies are also able to host training sessions onsite with a minimum of 10 participants.
Training Topics Include:
General Electrical Safety Information
General Electrical Safe Work Practices
Common Hazards
Permitted and Non-permitted uses
Arc Flash
Energy Control Procedures (ECPs) & Lockout/Tag-out (LOTO)
This NO COST training is available to workers and employers covered under the OSH Act of 1970, SEC. 4, codified at 29 U.S.C. 653 (Appendix B). This also includes multiple small businesses and temporarily unemployed workers who are planning to reenter the workforce in a position covered by the OSHA Act within the next three months.
To schedule Electrical Safety Training at YOUR location or to be added to the list to receive information on open enrollment classes, please contact Lauri Moon at (570) 329-3200×8085 or by email at laurim@imcpa.com.  You can also visit IMC's Events page for these and all our open enrollment classes.
Local Musician Patrick Sullivan Live at Lions Gate - February 16
Live music and light refreshments in the Lions Gate Club House from 6:00 pm to 8:00 pm tomorrow night.  Not able to make it?  See a full calendar of free community events at Lions Gate.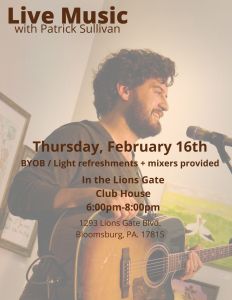 Columbia County EMA Announces CodeRED Community Notification System
Residents and businesses are encouraged to go to ema.columbiapa.org and click on the CodeRED logo located on the home page to ensure all of the data in the system is accurate and current.  Learn more.
This is a grant program with awards that range from $5,000 to $150,000 (A match is required for awards over $25,001) for nonprofit organizations that principally serve individuals, groups, or institutions that are included within a bias motivation category for single-bias hate crime incidents as identified by the FBI's Hate Crime Statistics publication.  Applicants are eligible for security enhancements designed to protect the safety and security of the users of a facility located in the Commonwealth that is owned or operated by the nonprofit organization. The 30-day period to submit your funding request is from Tuesday, January 31 to Thursday, March 2, 2023, at 11:45 PM.
EPA Virtual Public Hearing on National Ambient Air Quality Standards
The EPA has a virtual public hearing on plans to reconsider the National Ambient Air Quality Standards for particulate matter (PM2.5), taking place February 21-22. The proposed rule would impose stricter PM2.5 standards, which could hurt the economy and slow manufacturing growth. The NAM is advocating for the EPA to reconsider the proposal and instead focus on ensuring current strong air standards already on the books are being met before instituting new regulations. Register to speak at the upcoming hearing by clicking here.
Tomorrow is the last day to submit for Community Giving Foundation: Berwick's 2023 competitive grant round. (This grant round includes the Berwick Health & Wellness Fund.) The deadline for requests $10,000 and under is February 16th, and requests over $10,000 are due March 9th. Learn more about the application process and apply at csgiving.org/grants
Attention amateur photographers! Service 1st is looking for images that capture the beauty of the local communities for the 2024 Calendar, and hope you'll consider submitting your photos today. 
All photos must be submitted by July 1, 2023. For complete rules and entry information, visit here.
Winter Weather Safety Tips from Columbia County & PennDOT
Spending time on the road this winter?  Make sure you have a winter emergency travel kit.  Good items to have include:
Flashlight and batteries
Cell phone and charger
Snow shovel
Jumper cables
Blanket
Battery-operated radio
For more supplies to include in your kit, check out Ready PA's Build a Kit for Your Vehicle here.