Chamber Releases 2022-2023 Annual Report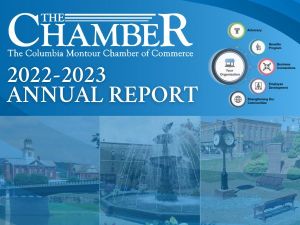 At the Columbia Montour Chamber's Annual Meeting, sponsored by PPL Electric Utilities, Board Chair Chris Stamatedes reported on the health of the organization by way of the 2022-2023 Annual Report.  Thanks to the ongoing support of members, the Chamber remains strong entering its 83rd year. In his review of the report's highlights, Stamatedes noted the uptick in in-person Chamber events, strong member engagement through local advocacy efforts, the hiring of new staff, and the strategic focus on the workforce by both the Chamber and its Foundation.
Check out the highlights of the past year here, in the 2022-2023 Annual Report.