Special Election: January 31, 2023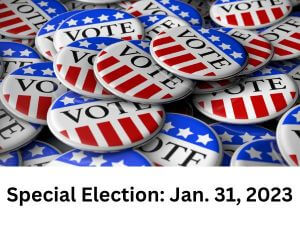 On January 31, 2023, the polls will open (7:00am to 8:00pm) in Columbia, Luzerne, Montour, Northumberland and Snyder County for a special election for Senator in the General Assembly for the 27th District.  This special election follows the November 30 resignation of long-time State Senator John Gordner, who held the seat from 2003 – 2022.  The Pennsylvania Constitution, Article II Section 2 dictates the process for such an election, which must take place within 60 days of the writ of election issued by the presiding officer of the chamber in which the vacancy occurs.  Former Lieutenant Governor John Fetterman issued such a writ in December prior to leaving office to assume his role as U.S. Senator for PA.
By way of the legislative reapportionment that went into effect December 1, 2022, the district map for this special election now includes all of Columbia, Northumberland, Montour and Snyder Counties, and parts of Luzerne County.
Candidates vying for the seat are PA Representative Lynda Schlegel Culver (Republican), and Patricia Lawton (Democrat).
Looking for more information about this special election?  Visit the PA Department of State website.    Looking forward to the election, but not sure what to expect?  Did you know that the PA Department of State also has voting system demos for each county as well as links to contact each county's election officials?