Member News – January 25, 2023
Montour Preserve Habitat Restoration Work Day Accomplishes Much
Thanks to 21 volunteers, 4 staff and 132 hours worked, MARC's habitat restoration work day cleared invasive species of brush, and restored 3.8 acres of open field habitat for local bird species.  Way to go!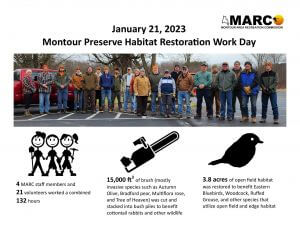 Craft Catering Achieves Five for Five on Wedding Wire and The Knot
Congratulations to Craft Catering, who recently achieved milestone status - "five stars, for five years running", on WeddingWire and The Knot.  Specifically, Craft Catering has been awarded the lone "2023 Couples Choice Award" in the catering division in the Scranton region on WeddingWire.  The award recognizes local wedding professionals who demonstrate excellence in quality, service, responsiveness and professionalism.  Winners are determined by the review from more than one million WeddingWire couples.  For the second year in a row, The Knot has also rated Craft Catering as "Best of Weddings".  Hat's off to Toni-Ann and company!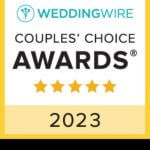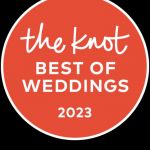 DRIVE Receives NREDA 2022 Organization Excellence Award
DRIVE, An Economic Council of Governments in Danville, Pennsylvania received the 2022 Organization Excellence Award for implementing a successful rural economic development program for their area. 
"DRIVE recognized the lack of access to broadband in their area and in response collaborated with county officials in the Central Susquehanna Region of Pennsylvania to design and build a carrier-grade wireless broadband network to reach unserved and underserved businesses and residences," stated Dennis Mingyar, NREDA Awards Committee Chair.  Here's Jennifer Wakeman, DRIVE's Executive Director, accepting the award.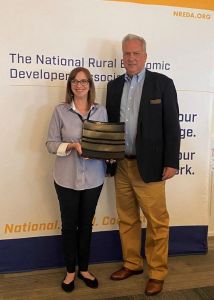 Students are Back!
Students returned to Commonwealth University - Bloomsburg Campus last Friday, in advance of the Spring semester.  Welcome back!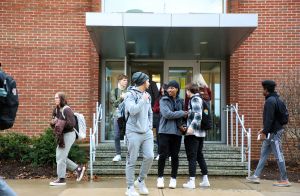 DTB Horizons Featured on "The Fatherhood Challenge" Podcast
Lenora Edwards, owner of DTB Horizons, was recently featured on this podcast to talk about speech and brain development and emotional regulation for dads.  Tune in!

Congratulations Bloomsburg Children's Museum Science Fair Winners!
On Thursday, January 19, the Bloomsburg Children's Museum hosted it's annual science fair.  Students from across the region participated in the event, which was open to the community.  Check out the full list of winners and some awesome pictures from the event in the science fair's annual impact report!
Bloomsburg YMCA Releases 2022 Annual Report
The Bloomsburg YMCA has been busy!  Check out their annual report here.
First Columbia Bank & Trust Employees Give Back
In 2022, First Columbia Bank & Trust Co. employees raised $6,282 during dress down days for charities and community organizations.  Congrats!
Geisinger Nurse Sara Renz, RN Featured in "Careers that Work"
PBS recently featured Sara Renz, RN in this video about the life of an emergency room nurse.

SEDA-Council of Governments (SEDA-COG) Announces New Fiscal Controller
SEDA-Council of Governments (SEDA-COG) is pleased to announce that Jamie Carnes, a 5-year staffer, has been promoted to Fiscal Controller.  Carnes began her career in finance over 10 years ago, gaining experience in financial statement preparation, general ledger activity, and capital spending management. Her career with SEDA-COG began with her role as a Finance Analyst where she served several different departments.  Read more about Jamie.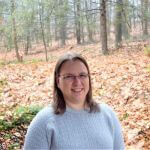 Bloomsburg Fair Queen Named PA State Fair Queen's Miss Congeniality
Congratulations to Abigail Jerome, the 2022 Bloomsburg Fair Queen, for being named Miss Congeniality at this year's PA State Fair Queen Competition.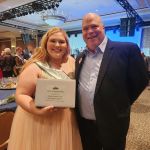 Dr. Bashar W. Hanna, president of Commonwealth University, has been appointed to serve on the board of directors for DRIVE.  Read more.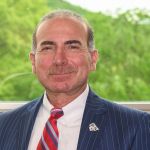 Service Electric Cablevision Deploys Fiber-to-the-Home
Northumberland, Pennsylvania – Service Electric Cablevision, a leading provider of residential and business Internet, TV and Phone services is excited to announce it has completed deploying Fiber-to-the-Home (FTTH) to residents in a Snyder County network expansion area south of Selinsgrove, PA. Residential and Commercial customers in the Selinsgrove expansion area now have access to fast, reliable matching download and upload Internet speeds ranging from 100M to 2 Gig, Plume Whole-Home Wi-Fi, TiVo Stream IPTV service and Home Phone.
"It is exciting to provide a high quality wired broadband service to residents of an area where no such service was previously available, especially when delivering service over a totally fiber optic network. The Snyder County network expansion consisted of approximately 20 miles of fiber routing and passed over 300 homes." said Sam Haulman, General Manager of the Sunbury System. "We are also pleased to announce that construction has started on another FTTH network expansion project located in Mount Pleasant Township, Columbia County. This build consists of approximately 50 miles of fiber routing and will pass over 500 homes. Service is expected to be available to residents late in the first quarter of 2023." 
Please visit www.secv.com/ftth to learn more about the available services.
After four years, the downtown festival will return to Main Street in Bloomsburg on April 29.  For more information, visit www.downtownbloomsburg.org.
Stay ahead of changing construction methods and code requirements. Partnering with The American Institute of Architects, Kawneer's next webinar will help businesses understand the types of aluminum windows, current testing standards, installation methods and performance.  Register here.
Learn about Quality of Earnings reports, why they are beneficial to business owners or acquirers, and learn how it can be used to assist with business planning.  The webinar is free, and offers one "specialized knowledge" CPE credit.  Register here.
COLUMBIA COUNTY CHRISTIAN SCHOOL TO HOST PARENT AWARENESS NIGHT JANUARY 26
Agent Porter from the Williamsport FBI will be presenting at the school on Thursday, January 26th 2023, 7:00pm-8:00pm, on variety of topics.
Event is open to the public. Please note, this presentation is intended for adults only.  The event will cover topics such as online dangers, child sexual abuse and exploitation.
TURKEY HILL BREWING COMPANY TO HOST JOHN MORGAN KIMOCK JANUARY 26
Astrology Days Records Presents John Morgan Kimock, whose Thursday night residency at Turkey Hill Brewing Company ends this week.  No ticket is required, but seating is limited. Donations suggested.
LIONS GATE APARTMENTS TO HOST KEVIN HAILE THURSDAY
Lions Gate Apartments is hosting free community events.  On January 26, Kevin Haile returns with piano and percussion from 6pm - 8pm.
Thomas Beaver Free Library to Host Winter Sowing Demonstration January 28
The Thomas Beaver Free Library Will Host Penn State Extension Master Gardeners for a Winter Sowing Demonstration on Saturday January 28, 2023 at 11am.  Get a head start on next year without spending too much money!  Jump-start your garden!
The Barn at Frosty Valley to Host Open House Sunday, January 29
Are you or someone you know engaged?  Visit the barn and onsite accommodations and connect with the venue's representatives.  One lucky couple will win a free wedding! Learn more!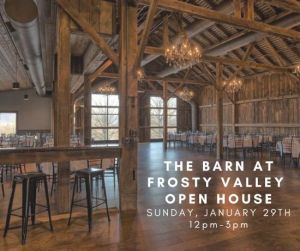 Susquehanna Valley United Way's United in Recovery Program to Host Student Event January 30
DJ Choices and SVUW's United in Recovery program are joining forces to educate students in Warrior Run School District about the dangers and consequences of illegal drug use. By using popular music and spectacular lighting effects, students will attend a special school assemble and hear true, heartfelt stories from special guests who have been affected by substance use disorder. Programs and resources will then be shared with students to empower themselves or refer others for help.
The event will take place on Monday, January 30th, 2023 and will feature two different school assemblies.  (Middle School: 9:30am - 10:30am, and High School: 1:45pm - 2:45pm.) Location: Warrior Run Middle School Auditorium, 4860 Susquehanna Trail, Turbotville, PA 17772
Join David Hammarberg, Partner and leader of the firm's SOC, Cybersecurity, Forensic Examination, and Information Technology practices, as he discusses the top 10 security practices your firm should currently be doing or implementing in the next year. Security is always changing, and organizations need to assess risks and mitigate those risks quickly. Each attendee should leave knowing they have some actionable steps to make their organization more secure.  Register here. 
Bloomsburg Public Library to Host Valentine's Day Card-Making Event for Kids February 4 at 10am
Extra cards will be delivered to local nursing homes.
Downtown Bloomsburg, Inc. To Host Downtown Businesses & Local Residents February 7
Downtown Bloomsburg, Inc. (DBI) is hoping to hear from community stakeholders- including downtown businesses and local residents, to better support and energize the downtown.  If you are interested in being a part of the conversation, join DBI's Board of Directors on Tuesday, February 7 at 6pm at Brewskis.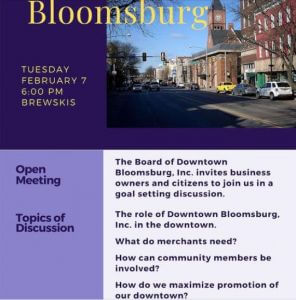 This in-person workshop will help aspiring entrepreneurs take the first step to business success in Union, Montour, Northumberland, Snyder, Juniata, and Perry counties.
Learn about applications and licenses needed to start a business, different types of business structure (sole proprietorship, LLC, etc., financing options, presented by a local banker, types of insurance a new business will typically need, presented by a local insurance agency, and SBDC Services available as you start your business.
Registration required.
NORTH SHORE RAILROAD CREATES "SHOP MANUFACTURED LOCAL" CAMPAIGN
On social media, North Shore Railroad has kicked off a new campaign this month, highlighting businesses which don't have boutiques or storefronts, but which manufacture their products right here in Pennsylvania, and ship them via freight.  Be part of the campaign and support your neighboring businesses by searching and using the hashtag #SHOPMANUFACTUREDLOCAL.
Montour DeLong Fair Dates Announced
This year's event will take place July 24 - 29, 2023.