Member News – January 11, 2023
Congratulations to Bill Lavage, Service 1st Federal Credit Union
Service 1st Federal Credit Union President/CEO Bill Lavage was recently honored with the 2022 Robert N. Pursel Award for Community Service during the Community Giving Foundation's Holiday Happenings Gala held at the Pine Barn Inn, located in Danville.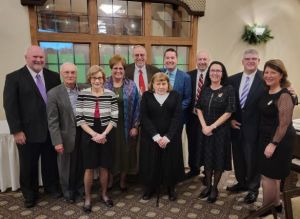 Columbia County Christian School to Host Parent Awareness Night January 26
Agent Porter from the Williamsport FBI will be presenting at the school on Thursday, January 26th 2023, 7:00pm-8:00pm, on variety of topics.
Event is open to the public. Please note, this presentation is intended for adults only.  The event will cover topics such as online dangers, child sexual abuse and exploitation.
Turkey Hill Brewing Company to Host John Morgan Kimock on Thursday Nights in January
Astrology Days Records Presents John Morgan Kimock - Thursday Night Residency Jan 12, 19, 26.  Catch John and his rotating cast of friends and family on any thursday in January.  Turkey Hill Brewing Company is an intimate setting with great food, beer and lodging.
No ticket is required, but seating is limited. Donations suggested.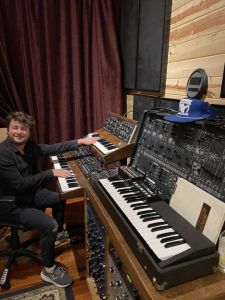 LIONS GATE APARTMENTS TO HOST FREE EVENTS
Lions Gate Apartments will host free community events starting Friday.  Check them out!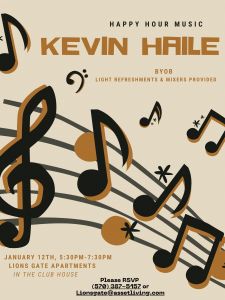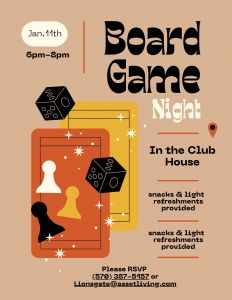 January 11, 2023 - Board Game Night in the Club House!
January 12, 2023 - 5:30pm - 7:30pm Kevin Haile (live music)

January 26, 2023 - Kevin Haile returns with piano and percussion from 6pm - 8pm.
TOWN OF BLOOMSBURG ANNOUNCES VOLUNTEER OPPORTUNITIES
There are vacancies on the following boards/ commissions for the Town of Bloomsburg. Interested candidates who live within the Town of Bloomsburg should submit a letter of interest to the Town of Bloomsburg located at 301 E. 2nd Street, Bloomsburg, PA 17815. You can also e-mail your interest to:
info@bloomsburgpa.org
.
(1) Code Appeal Board- Term expires 12/31/2025.
(2) Code Appeal Board Alternates. Terms expires 12/31/2025.
(1) Human Relations Commission. Term expires 12/31/2024.
(1) Planning Commission- Term expires 12/31/2024.
(1) Shade Tree Commission- Term expires 12/31/2027.
(1) Zoning Hearing Board Alternate. Term expires 12/31/2024.
IMC To Host January Webinars
IMC has announced two (free) upcoming webinars, called "Training Within Industry - Foundations of Job Instruction" (January 10) and "Building an Innovative Enterprise - An Introduction to Design Thinking" (January 17).
Steinbacher, Goodall & Yurchak to Host 'Trust Takeover' Webinar January 24
Make a New Year's resolution to keep your hard-earned assets safe!
Protect more of your wealth this year and provide a legacy for future generations. Learn how you can establish a financial readiness plan today that accounts for the healthcare challenges of tomorrow. If you've ever thought about setting up a trust, then this webinar is for you! 
Register here.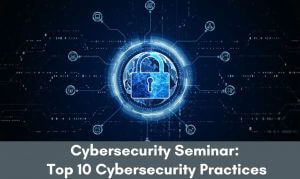 Join David Hammarberg, Partner and leader of the firm's SOC, Cybersecurity, Forensic Examination, and Information Technology practices, as he discusses the top 10 security practices your firm should currently be doing or implementing in the next year. Security is always changing, and organizations need to assess risks and mitigate those risks quickly. What use to be seen as cutting-edge security has become essential for organizations. You know what I'm talking about if you have recently filled out a cyber insurance application. We will discuss how each organization's goals should be to move their security footprint further and further to the next level. Each attendee should leave knowing they have some actionable steps to make their organization more secure.  Register here.  `
The regional accounting and business advisory services firm – announced promotions for fourteen of its team members! Three advance to Partner, three to Senior Manager, two to Supervisor, four to Senior Accountant, one to Executive Assistant, and one to Administrative Coordinator.  Read the full release!
The Northeastern Pennsylvania Industrial Resource Center (NEPIRC) is pleased to announce that the organization's Lean Enterprise Consultant, Brian Matyjevich, recently completed the British Standards Institution's (BSI's) ISO 14001:2015 Lead Auditor Training course and successfully obtained designation as an ISO 14001:2015 Lead Auditor with competencies in Environmental Management Systems, Management Systems Auditing and Leading Management Systems Audit Teams.  Read more.