Member News – January 4, 2023
CALLING ARTISTS FOR SUBMISSION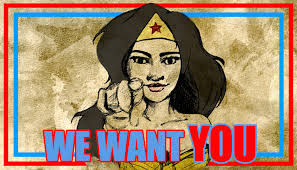 The Exchange Gallery welcomes artwork by people of all ages and levels of experience, with only one rule: it must fit through the front door!  For more information about open-call themes, visit: ExchangeArts.org/calls-for-entry.
BLOOMSBURG VETERINARY HOSPITAL RECEIVES ACCREDITATION
On November 30, 2022, the Bloomsburg Veterinary Hospital passed the renewal of their American Animal Hospital Association (AAHA) Accreditation! To be an AAHA accredited hospital, BVH was evaluated on over 900 standards of care. Only 15% of veterinary hospitals are accredited.  Congratulations!
Turkey Hill Brewing Company to Host John Morgan Kimock on Thursday Nights in January
Astrology Days Records Presents John Morgan Kimock - Thursday Night Residency Jan 5, 12, 19, 26.  Catch John and his rotating cast of friends and family on any thursday in January.  Turkey Hill Brewing Company is an intimate setting with great food, beer and lodging.
No ticket is required, but seating is limited. Donations suggested.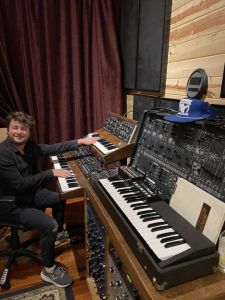 KNOEBELS AMUSEMENT RESORT ANNOUNCES 2023 OPENING WEEKEND
Knoebels will open for its 97th season on April 29th and 30th.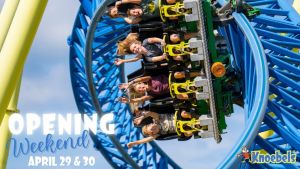 500+ PA MANUFACTURERS ATTRIBUTE GROWTH TO IRC PROGRAM
Wilkes Barre, PA - Data voluntarily provided to independent researchers by 541 small and mid-sized manufacturing firms across Pennsylvania throughout 2022, and subsequently verified by the U.S. Department of Commerce, confirm that the statewide Industrial Resource Center (IRC) initiative – the Commonwealth's flagship program for strengthening the competitiveness and resiliency of smaller industrial firms – generated significant positive results amidst a turbulent economy. Over the past 12 months, manufacturers that utilized IRC professional services avoided 4,099 layoffs while adding 1,226 full-time workers to their payrolls. They also realized $398.9 million in retained sales and secured $108.9 million of new customer orders as results of their IRC assistance.  Read the full release.
KEEP YOUR PIPES FROM FREEZING: SHORT VIDEO
The Good Insurance Group wants to help you keep your home running smoothly.  Check out this short video tip, which is one of six.
LIONS GATE APARTMENTS TO HOST FREE EVENTS
Lions Gate Apartments will host free community events starting Friday.  Check them out!
January 6, 2023 - DJ Jon Gosselin will spin tunes from 7-11pm. 

January 12, 2023 - Kevin Haile (live music) 5:30pm - 7:30pm

January 26, 2023 - Kevin Haile returns with piano and percussion from 6pm - 8pm.
TOWN OF BLOOMSBURG ANNOUNCES VOLUNTEER OPPORTUNITIES
There are vacancies on the following boards/ commissions for the Town of Bloomsburg. Interested candidates who live within the Town of Bloomsburg should submit a letter of interest to the Town of Bloomsburg located at 301 E. 2nd Street, Bloomsburg, PA 17815. You can also e-mail your interest to:
info@bloomsburgpa.org
.
(1) Code Appeal Board- Term expires 12/31/2025.
(2) Code Appeal Board Alternates. Terms expires 12/31/2025.
(1) Human Relations Commission. Term expires 12/31/2024.
(1) Planning Commission- Term expires 12/31/2024.
(1) Shade Tree Commission- Term expires 12/31/2027.
(1) Zoning Hearing Board Alternate. Term expires 12/31/2024.
BERWICK YMCA TO DISTRIBUTE FOOD JANUARY 9
The Berwick YMCA's next food distribution date will be Monday, January 9th from 2-4PM. Note there is a location change. The Berwick YMCA is partnering with the Good Shepherd Lutheran Church, 1600 Fowler Ave, Berwick to distribute food to those in need in our community starting Jan 9th. For additional information please contact the YMCA at 570-752-5981.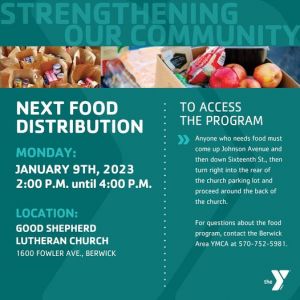 As part of a coming Marketing and Design Course, Bucknell Students are offering to develop websites for local businesses and organizations free of charge.  Respond to their survey by January 10 for an opportunity to partner with these students.  Read more.  
PA CareerLink to Host Hiring Event in Bloomsburg January 11
Recruitment event in the new PA CareerLink Bloomsburg location. Come meet with a hiring manager in person to learn why they're a great place to work!
If the weather is bad please call before stopping in- in the event of inclement weather, they would not cancel, but it may be rescheduled!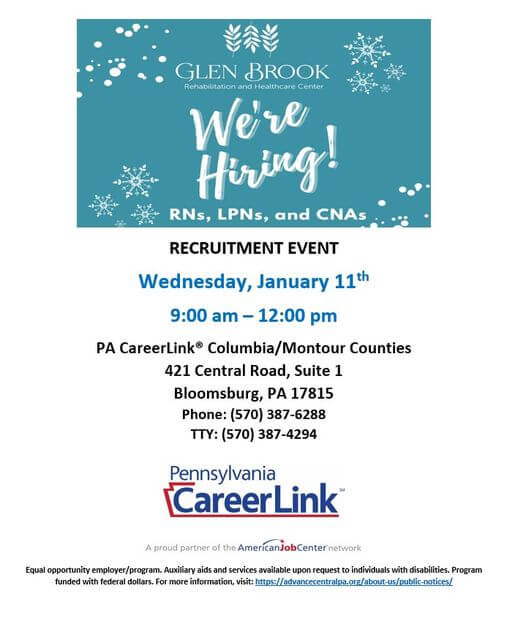 IMC To Host January Webinars
IMC has announced two (free) upcoming webinars, called "Training Within Industry - Foundations of Job Instruction" (January 10) and "Building an Innovative Enterprise - An Introduction to Design Thinking" (January 17).
Steinbacher, Goodall & Yurchak to Host 'Trust Takeover' Webinar January 24
Make a New Year's resolution to keep your hard-earned assets safe!
Protect more of your wealth this year and provide a legacy for future generations. Learn how you can establish a financial readiness plan today that accounts for the healthcare challenges of tomorrow. If you've ever thought about setting up a trust, then this webinar is for you! 
Register here.